COLONEL GEORGE ADOLPHUS JACOB (Hon Litt D Cambridge)
SANSKRIT SCHOLAR
Born 21st August 1849 - Died 9th April 1918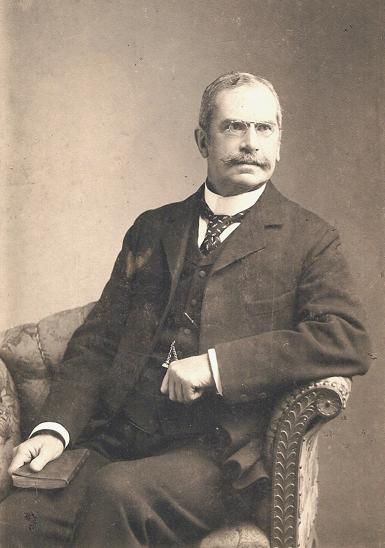 George Adolphus was born on 21st August 1846, the son of George Andrew Jacob DD. He was educated at the Sheffield Collegiate School where his father was headmaster at the time. At the age of 16 he went to India, by the Cape, to join the 22nd Bombay Infantry, arriving in March 1857. In 1858 he became a member of the Bombay Staff Corps and until 1861 was engaged in regimental staff duties. In the latter year he joined the Poona School of Instruction. He rose to become Superintendent of the Native Army School, in which post he continued until his retirement. He was also Director of Instruction for the Bombay Presidency.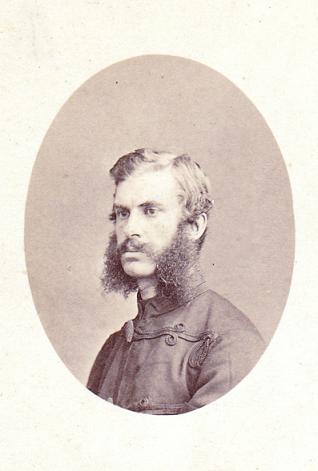 Returning to England in 1890 he settled at Redhill and concentrated upon his Sanskrit studies, in which he had become engaged whilst still serving in India. He published a number of books and articles. A literal translation of the Meghaduta had been published in 1870, and two valuable articles contributed to the Royal Asiatic Society's journals in 1897 amd 1898. including the first edition of Udbhata's work. In Philosophy he studied the Yoga, Mimansa and Vedanta systems and the Upanisads. His edition of the Upanisads comprised two volumes in the Bombay Sanskrit Series. Amongst other publications his manual of Hindu Pantheism, an anotated translation of Salananda's Vedantasara passed through several editions from 1881 onwards. In 1914 he received the Hon Degree of Litt D from Cambridge University. Some of his works have been reprinted over the past few decades, as the copyright to the originals expired.
He married Emily Abbot, a daughter of the Reverend Amos Abbot of Steele City, Nebraska, USA. She pre-deceased him and he died on 9th April 1918. They had children:
1 Frederick Drummond, born at Mahablishwar 29th March 1865, and died 23rd May 1934 at Ottawa, Canada.
2 Harold Fenton, born at Satara 22nd December 1866, and died at Hastings, in Sussex, 23rd December 1936.
3 Ernest Abbot, born at Mahablishwar 20th March 1868. He died at Hastings.
4 Hugh Travers, born in the Isle of White 30th July 1869, and died 16th September 1898.
5 Ethel May, born at Mahablishwar 13th April 1871; she married Louis Bernard Butcher.
6 Maud Augusta, born at Mahablishwar 24th December 1872
7 Marion Kirby, born at Mahablishwar 17th December 1874
8 Kathleen Anstice, born at Weston-super-Mare 1st November 1882
He was an accomplished scholar of Indian languages. According to his Record of Service, he obtained interpreter's level in Hindustani in January 1859, and the same (with credit) in Marathi in October 1860, and High Proficiency in Sanskrit in October 1866. He also had a slight knowledge of Persian. It is extraordinary how quickly the mail was sent between India and the UK. A letter written by a sister of George Legrand Jacob, we don't know which one, congratulates Adolphus on 23rd March 1859 for passing his interpreters level in Hindustani. It also goes on to state that she was pleased he had recovered from his great illness. It also laments the death of Adolphus's uncle John (John Jacob of Jacobabad).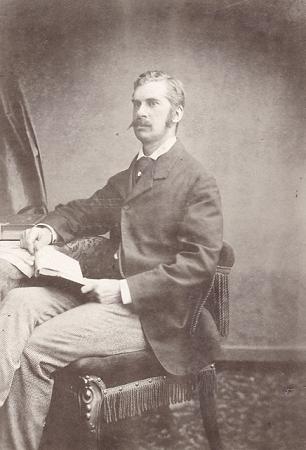 I have letters from Philip Whittington Jacob, himself an accomplished Sanskrit scholar, complimenting Adolphus on his achievements in the study of Sanskrit; a similar one from Major-General George Legrand Jacob also exists. He was considered shy. A letter from a cousin Gertrude Jacob to her 'soldier brother' (Eustace Wilberforce Jacob), written from Crawley, and dated 26th January 1856 states....Adolphus Jacob, who has been staying here for the last 10 days went away today. He is a remarkably quiet and shy youth. Yesterday he and Edgar and Jane had some rabbit shooting out in the meadow..... Barter and a man from Leckford had caught with a ferret about 15 rabbits. All these they let go in the meadow and the boys popped away at them...... My father remembers him but vaguely as a peppery old Colonel, when taken to see him as a young child by his elder sister Marjorie.
I give below the text from an obituary, probably from the Bombay Times:
AN ANGLO INDIAN SANKRITIST
A valued correspondent sends some interesting particulars about Col George Adolphus Jacob, whose death at the age of eighty was announced by Reuter a day or two ago. He belonged, it seems, to the Old Bombay Army, which he joined a few months before the mutiny and from which he retired with the rank of Colonel twenty-five years ago. In 1882 (sic) he joined the Indian Staff Corps and was Superintendent of Army Schools at Poona before he retired. He was the cousin of the distinguished Indo-Saracenic architect Sir Swinton Jacob, who passed away a few months ago and belonged to the same gifted family as the great General John Jacob of Jacobabad, and Sir George Le Grand Jacob, the distinguished political officer during the Mutiny in the South Mahratta country, after whom Jacob's Circle in our city is named. Like the latter, Col G A Jacob was a zealous student of the early literatures of India, and he paid special attention to Sanskrit philology and philosophy. At Poona he had many friends among Mahratta scholars, notably the late M C Apte, who founded the well known Anand Ashram Press, which has issued a number of valuable Sanskrit texts, and like him too collected a valuable Sanskrit library.
COLONEL JACOB'S WORKS
Colonel Jacob published works of high value. He contributed several volumes to the well-known Bombay Sanskrit Series, which contains some of the best editorial work of Indian scholars like K T Teland, Shankar Pundit and Sir R Bhandarkar, and of European Sanskritists such as Buhler, Kielhorn, Peterson and Fuhrer. Col Jacob's most valuable and useful contribution to this series was his large concordance to the principal 66 Upanishads and the famous Bhagwad Gita, on which he laboured for twelve years and which appeared in 1891. He also published a translation of the epitome of the Vedanta which furnishes a useful manual of Hindu pantheism. His uncle, Capt William Steophen Jacob (1813-1862) was also well known in Poona as an astronomer and established there an observatory where he died in 1862. He was previously for ten years Director of the Madras Observatory.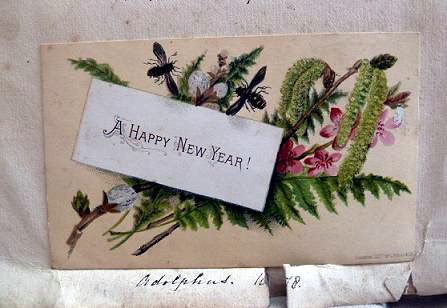 It should be noted, as my father tells me, that his three spinster daughters, known to the family as the three aunts, a formidable body of womanhood, spent much of their time helping their father in his publications. He would write out slips of paper for indexing, for example, and they would labouriously order them alphabetically. Perhaps that is why they were never permitted to marry, although Adolphus would argue no one good enough for them could be found. One, Ethel, did escape his clutches to marry Canon Bernard Butcher.
Sources:
Major Lemuel Abijay Abbott, Descendants of George Abbott of Rowley, Mass., Volume 2, 1906.
Adolphus's Service Record (Jacob MSS).
Kenneth Clive Jacob, "A Victorian Pedagogue and his Circle", The Jacob Private Press, © 2002.
New Year card by courtesy of Nigel Bunn, photographed by Sue Bunn.