REVEREND SIMON PIDSLEY
Born 12th October 1773 - Died 7th September 1821
He was a son of William and Elizabeth Pidsley, born on 12th October 1773, died on 7th September 1821, and was buried at Uplowman. He married Mary, the daughter of John Thomas Esquire, of the Bengal Civil Service, a judge in Calcutta. She was born 24th December 1781.
They had children:
1 John, born 30th September 1802. He was privately baptized on 3rd October 1802.

2 William, born 18th February 1804 at, baptized 24th February. He died of Brain Fever in January 1826.

3

Eliza Susanna

, born 22nd April 1808, baptized 25th December 1908, died 6th April 1892. She marrried

Dr George Andrew Jacob DD

.
His father William was killed while out hunting, and Simon and his brothers and sisters were brought up by their grandfather John Pidsley, who died in 1801.
Simon Pidsley held many estates and livings in Devonshire. Great Wootton in the parish of Colnbrooke, Devon, belonged to him and had been in his family for some 200 years. The Manor of Barne Court, Lustleigh, was acquired by Simon, including a moiety of the advowson of the rectory. He was patron of and incumbent of the rectory of Samford Peverell in the deanery of Tiverton. He also owned the barton of Deascombe, in Drews Teignton, in which tin deposits had been discovered. He was patron of and incumbent of the rectory of Uplowman. All these properties, with the exception of the livings of Sampford Peverell and Uplowman passed to his eldest son John PIdsley who, in his sister Eliza's words, ran through them all.
A letter written by Edgar Jacob from San Francisco on 16th September 1883, after spending some time at Salt Lake City, where he wrote extensively about the Mormons, is illuminating as far as Eliza's brother John is concerned. Edgar spent much time in the company of an Anglican Bishop Tuttle. Mrs Tuttle's brother, a Mr Foote, had spent 4-5 years at Salt Lake City building the church there; he was married to the only daughter of an English clergyman a Mr Pidsley, who is naturalized and lived at San Jose. Mr Pidsley, now an old man, has retired from active duty but helps his son in law a good deal. His sister married Dr Jacob, late of Christ's Hospital, and they correspond regularly. I lunched with old Mr Pidsley who was most kind and hospitable and glad to see me.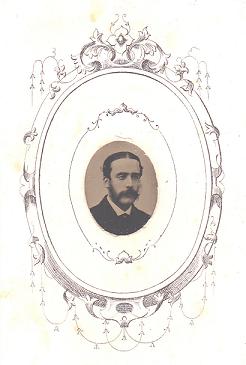 Harry Pidsley. How he fits into the family
tree I don't know.
Sources:
Magna Britannia, Vol VI, Devonshire
Eliza Jacob's notebook.
Pidsley Family Bible
Jacob MSS