EDWARD JACOB
MAYOR OF CANTERBURY
Apothecary and Surgeon
Baptized 9th April 1680 - Died 9th February 1756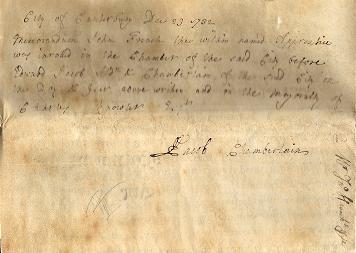 He was the elder son of Amos Jacob MD of Ashford, in Kent, by his second wife Mrs Mary Harris (nee Clarke). He was baptized at Ashford on 9th April 1680. He was a scholar of King's School Canterbury some time between 1694-1696, and possibly before and after these dates, as some of the school's records are missing.
He practised as a surgeon in Deal in 1704, having been apprentice to Samuel Harris, surgeon, of Deal, before moving to Canterbury. On 19th August of that year he married Jane Viol, one of the two daughters and co-heirs of the Reverend Strangford Viol of Willesborough. They had children:
1 Edward, baptized at St Leonard's, Deal on 7th June 1705 and buried at Tilmanstone, Kent 29th September 1706.

2 Mary, baptized at St Mary Breadman, Canterbury, 10th May 1707 and buried at Tilmanstone 18th June 1708.

3 Christopher, baptized at St Mary Breadman on 3rd June 1708 and buried at Tilmanstone 18th June 1708.

4 Sarah, baptized 19th March 1710. She married Culpepper Savage, clerk, by license dated 24th April 1753.

5 Jane, baptized 27th July 1711.

6

Edward

, baptized 9th May 1713.

7

Richard

, baptized 6th February 1715, died in 1763.

8

Ann

, baptized 7th August 1716.
His wife died possibly due to complications in childbirth and was buried at Tilmanstone on 19th March 1719. He married as his second wife Mary, the daughter of John Chalker of New Romney, at St Alphage, Canterbury, on 24th March 1719. They had children:
1 Thomas, baptized 24th March 1721, buried at Tilmanston 3rd (the Bishop's Transcript says 30th) August 1721.
2 John, baptized 3rd June 1721, buried at Tilmanstone 16th February 1724.
3 Mary, baptized 5th October 1726. She married the Reverend Stephen Barrett MA on 12th December 1749. She died 28th March 1786.
Edward's second wife Mary was buried at Tilmanstone 14th October 1726.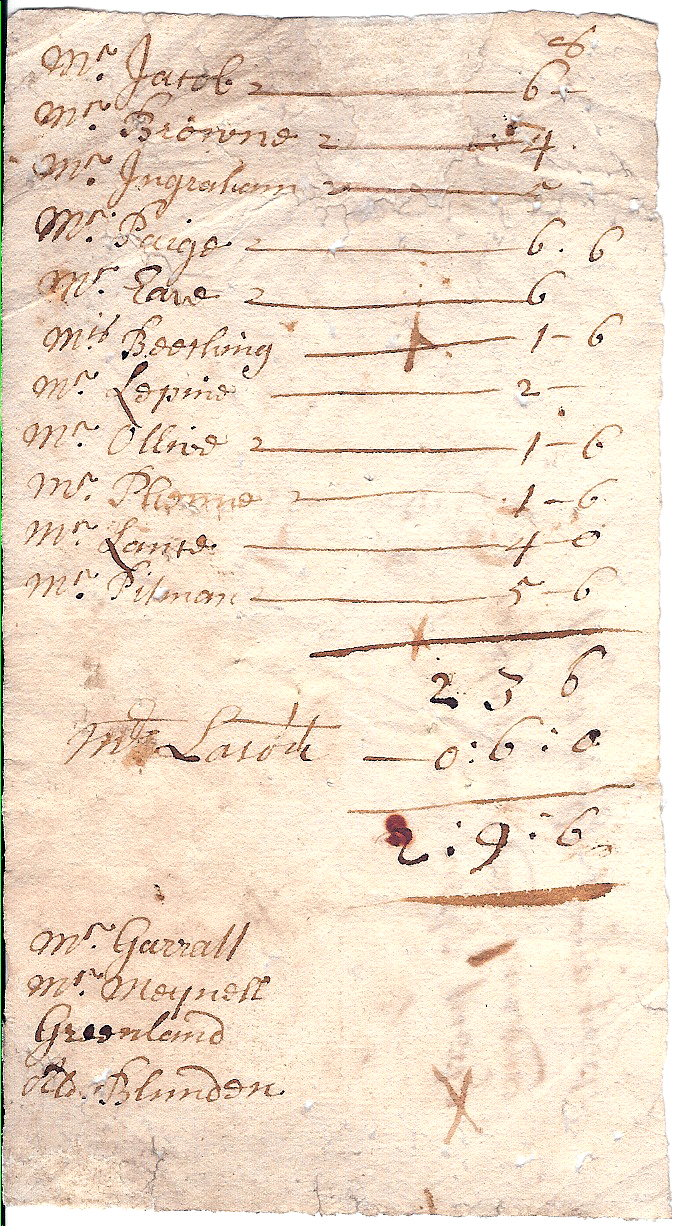 An alternative date for her burial is given as 10th October 1727.
Described as an Apothecary, he became a freeman of the City of Canterbury by redemption in 1706. He had brought to the Registrar at Canterbury a note from a local Deal surgeon, testifying to his apprenticeship to a Mr Samuel Harris of Deal for the full term of seven years. In the writer's opinion he was fit to be licensed for the practise of Chyrurgery. He was elected Mayor of Canterbury in 1727 and was an alderman and chamberlain of the city for many years. A Freemason (as were many Jacobs past and present), he was master of his lodge in 1736-7.
Edward was the first I have been able to identify who displayed an interest in his family's history, as he did in Canterbury's history, a bent which perhaps he passed on to his son Edward, who went on to write 'the History of the Town and Port of Faversham'. He collected material on the history of Canterbury and annotated a number of manuscripts. In Alderman Grey's notebook, for example, we find the following entry: Last two instruments copied from old ledger of City's. This volume was by mistake given up to the Guardians of the Poor. Estate was vested in them, and by them laid aside as useless until 1740, when it was recovered by our present industrious Chamberlain E Jacob (CKS-CC/SuppMs/6)
He died on 9th and was buried at Tilmanstone on 13th February 1756. In his will dated 27th April 1753 he wished to be buried in the same grave as his second wife Mary, who was 30 years his junior. I have never found out why he owned property in Portsmouth. Perhaps it came to him through one of his marriages. This was given to his sons Edward and Richard as tenants in common. He was first granted a lease by the Dean and Chapter of Christchurch, Canterbury, to an inn called the King's Head (formerly the Saracen's Head) and another tenement in All Saints, Canterbury on 7th December 1712 (CKS-CCA-DCc-BB/77/34). This was renewed every 10 years, the last renewal being on 29th June 1753(CKS-CCA-DCc-BB/77/40-41). Perhaps this was used for meetings of the lodge to which he belonged. He also owned the freehold of a messuage in New Street, Ashford, which he presumably sold when he moved to Canterbury. It is described in a rental of Ashford compiled about 1773. It would appear to have been an inn known as the Fountain and later as the Prince of Orange. We don't know when he acquired this, but in 1680 it was owned by Frances Barlow, widow, so presumably Edward bought the premises in the first few years of 18th century. It was sold on to Roberta Bate, again, we don't know when.
His will was proved at Canterbury on 17th February 1756.
There was a monument to Edward and Jane in Tilmanstone Church, recorded by Montague Pennington described as a flat stone without the altar rails:
To the memory of Jane, daughter of Rev. Strangford Viol,
Rector of Upminster, in Essex,
and Jane his wife, daughter of Richard Fogg Esq.
late of this parish Esquire;
she married Edward Jacob, of Canterbury, surgeon,
and left issue 8 children,
ob. March 16, 1719, aetat 33.
Also the said Edward Jacob, and Mary daughter of John Chalker, of New Romney, gent.
his second wife;
she died Oct. 10, 1726, aged 33
he died Feb.9., 1756, aged 76.
Souces:
Stemmata Chicheleana, Oxford, The Clarendon Press, 1760 & 1765, in 2 Volumes.
William H. George, © 2001, Edward Jacob (1713-1788), A Biography, ISBN 0 9534092 3 6.
Sir Bernard Burke, Ulster King of Arms, 'A Selection of Arms Authorised by the Laws of Heraldry', London 1860.
Jacob MSS
Various parish registers
Canterbury marriage allegations
Gentleman's Magazines
Kent Archaeological Society Online: Rental of the Manors of Ashford and Licktop, transcribed by Arthur Ruderman (CKS refs U1045/M24 & U55/M90 etc.)
Other sources cited