HAROLD ALARIC JACOB
Born 8th June 1909 - Died 26th January 1995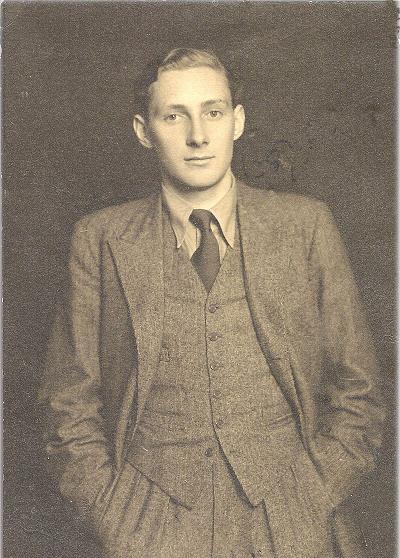 He was the second son of Harold Fenton Jacob, born at Edinburgh 8th June 1909. He was educated at St Cyprian's School in Eastbourne and The King's School, Canterbury.
When he was 17 he wrote a play The Compleat Cynic, which was produced at Plymouth, where he started his career as a journalist on the Western Morning News. At 21 he published his first novel Seventeen, a fictionalised account of his schooldays in Canterbury. He was introduced to Sir Roderick Jones, the head of Reuters, and was offered a position as diplomatic correspondent in London. He married in 1934 Iris Morley, daughter of Lieutenant-Colonel Chartres Morley CBE, Commandant of the Hampshire Regiment and grand-daughter of Sir Thomas Braddell, Chief Justice of Malaysia. She is descended in the female line from the Earl of Rochford KG, otherwise Henry Nassau, Lord of Zuylesyein, who received the title from William of Orange, his cousin, on accompanying him to London. It was this connection which made Iris concentrate on the history of late 17th century England when she became a novelist.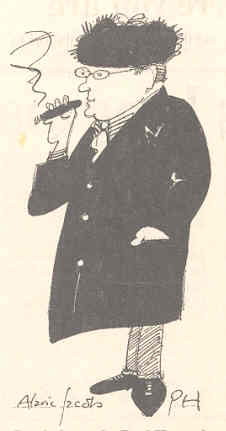 In 1935 he went to Washington where he stayed until the outbreak of WWII. He returned to London where he remained until 1941 and then spent two years with the 8th Army in North Africa. After the first and second battles of El Alamein, he went to Russia as a war correspondent for the Daily Express. He was attached to the Red Army from the Battle of Stalingrad to the fall of Berlin and became sympathetic towards the Soviet regime. His wife Iris was a Communist and her ideas strongly influenced Alaric. He suspected, however, that her membership of the Communist Party worked against him, even when they were separated. He stayed in the Soviet Union on and off until the start of the cold war in late 1947. Iris had travelled to Moscow with Alaric on an Artic convoy early in 1944, and remained based there until 1947, working as a correspondent for the Observer and the Yorkshire Post.
Alaric then joined the BBC at the monitoring station at Caversham and ended up as a senior editor at Bush House when he retired in 1972.
They had one child, a daughter, Aurora, born in 1946. Iris died in 1954.
In the same year Alaric married Kathleen Byron (nee Fell), the actress. By Kathleen he had two children:
Alaric has been described as a Communist, but the Alaric I knew was far too urbane and fond of Western creature comforts; perhaps one might describe him as an armchair socialist.
Alaric published a number of books and articles. These can be accessed via the book icon below.
Alaric as a child, from the age of 8 onwards, was a keen photographer. Thanks to his efforts we have photographs from the 1920s which are reproduced on a number of pages.
Links:
Jacob MSS
Papers of Alaric Jacob