KATHLEEN JACOB aka KATHLEEN BYRON
Born 11th January 1923 - 18th January 2009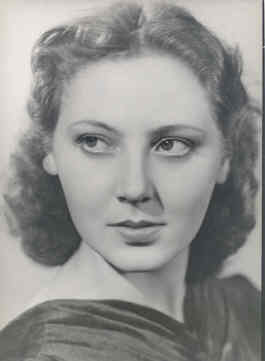 Kathleen Byron was born on 11th January 1923 . An actress of stage, screen and television, her career has spanned several decades. Much has been written about her career by people more competent to do so than myself, so I give below links to various web-sites. She had parts in a great number of films, television film and theatre productions, the last one being Saving Private Ryan, in which she played Ryans mother. I personally saw her only once on stage and that was in The Moustrap in 1982. Heartbeat, Dalziel and Pascoe, Casualty, Midsomer murders, The Bill, Howard's Way, Emmerdale farm, Minder, The Professionals, Z Cars, The Avengers, Danger Man, Emergency Watrd 10, but some of the many television series in which she has appeared.
She trained at Bristol's Old Vic Drama School, but at the age of 20 was called up and worked in censorship. She made her film debut in Carol Reed's The Young Mr Pitt (1942), in which she had two lines as a maid opposite Robert Donat. She appeared in a few films for the Crown Film Unit, but her agent introduced her to Michael Powell, to read for a film he and Emeric Pressberger were producing, 'Silver Fleet'. She said: 'He had a disconcerting habit of staring at you. I coudn't think of anything else to do, so I just stared back. He said: 'You can't try and stare me into giving you the part.'
But Powell was clearly impressed and followed her career with interest., Her career developed rapidly thereafter. Perhaps she is best known for her roles in the films of Michael Powell and Emeric Pressburger, roles such as an angel in A Matter of Life and Death (1946), as leading lady opposite David Farrar in The Small Back Room (1949), and, most memorably of all, as the disturbed Sister Ruth in Black Narcissus (1947). She was romantically linked with Michael Powell around the time the film was made.
Her success in Black Narcissus led her to Hollywood, which resulted in a supporting role in Young Bess (1953). She found the experience an unrewarding one and soon returned to Britain. In the 1960s and 70s she did mostly television work, including the role of Mme Celeste Lekeu in two episodes of the BBC drama Secret Army in 1977, a brief stint on the soap opera Emmerdale Farm in 1979, and a small role as Queen Louise of Denmark in Edward the Seventh in 1975.
In 1953 she married the journalist and writer Alaric Jacob, who was then working for the BBC. They had a son and daughter. Kathleen died after a short illness on 18th January 2009.
Click HERE to go to a skeleton family tree of the Fell and Macaree families, compiled by Jasper Jacob.
Sources: