ROBERT HUNTER HOUGH
Baptized 13th May 1778 - Buried 14th December 1830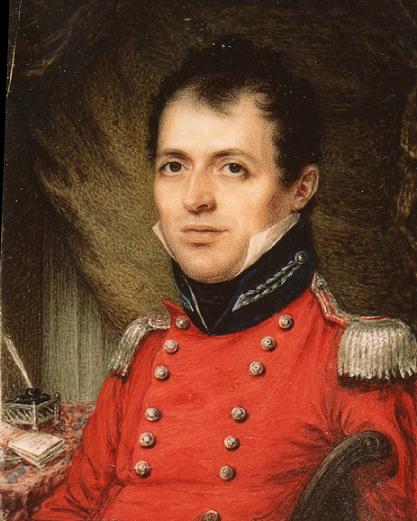 The son of Samuel Hough, he was baptized on 13th May 1778, and buried on 14th December 1830. He served with the 8th Native Indian Regiment, and was at some time Deputy Auditor General. The office of Auditor General was carried out at Simla, and his deputy acted generally as his Chief of Staff.
On 1st August 1803 he married Jemima Eliza Louisa Waddington, who was born ca 1775, and was alive in 1864. They had children:
1 Robina Jane, baptized 23rd May 1804, buried 6th June 1831. She married Capt. Roderick James MacLean on 15th August 1822.
2 Louisa Hay, baptized 26th January 1806. She married Alexander John Kerr.
3 Robert Grant, baptized 26th September 1808, and was buried 25th December 1811.
4 Caroline Margaretta, baptized 31st March 1814 On 4th October 1835 she married Capt. Elgate Winchelo, H E I C S.
5 Major-General Lincoln Stephen Cotterell, baptized 10th July 1816, died 23rd November 1876.
6 Harry Wainwright, baptized 23rd May 1819.
7 Albinia Henrietta, baptized 17th October 1821, buried 22nd June 1832.
Image courtesy of Dr T.G.B. Howe
Pedigree courtesy of Dr T.G.B.Howe.