PASTOR OLAF JOHANNES HOYER
Born in 1859 - Died 20th June 1930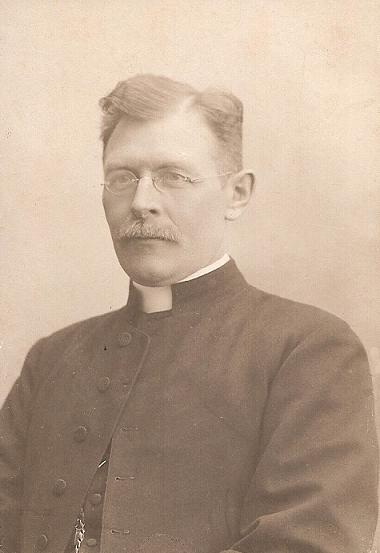 Of Frederiksberg, Copenhagen, Denmark, my great grand-father was born in 1859 and died on 20th June 1930. On 10th November 1882 he married Maria Hansen, who was born on 13th October 1858, and died 9th April 1939. They had a daughter Ellen Maria, who married Lt.-Colonel Harold Fenton Jacob.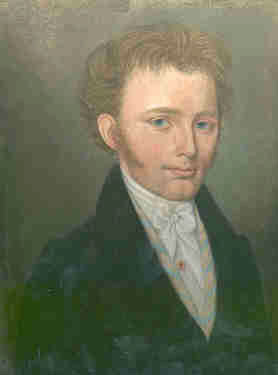 Olaf had asprired to a military career, but finally settled for one in Danish Law enforcement. He spent fifteen years in the police force in Copenhagen (1881-1896), rising to the rank of detective. As the years passed he focused on an alternative career path. In 1895, a year before he resigned, he formed a small fellowship with like minded police officers known as the Politifunktionoerernes Broderkreds (the Brotherhood of Police Civil Servants), consisting of ten founding members who would become the core of the mission's future network. He was the driving force and initiator of this, and it raised enough funds to send him to Lebanon for the purpose of language studies and to familiarise himself with the region.
Over the next two years, from early 1897 to 1899, when he was joined by his wife Maria and daughter Ellen, he finally chose Hebron (Khalil ar-Rahman) as the site for the couple's permanent mission.Other missionaries were so impressed with Hoyer's performance in christianising, that they sent a letter to Denmark asking for him to be made a Christian minister, referring to him as energetic and scholarly. In Denmark, however, he was deemed unprepared for such an advancement and the couple returned home for an extended period.
Between 1900-1901 he worked hard to gain ordination and promote the activities of the brotherhood. The brotherhood was organised into a formal mission going under the name Missionoer Oluf Hoyer og hustrus Missionsvirksomhed i Judea (the Missionary Oluf Hoyer and Wife's mission in Judea) and he started to publish a missionary journal titled Fra Hebron (from Hebron). although he expressed some concern about the mission bearing his name in the title.
In May 1901 he returned to the Middle East. His wife had secured a pledge of additional support from the mission KMA or Female Missionary Workers. He returned to Hebron but was disillusioned. By 1902 the American, British and German mission sin hebron were all competing with one other in seeking out converts.
He decided to go to Arabia, arriving in British administered Aden, and going on to Mukalla in late March 1903. He was invited to stay at the sultan's residence, although he never met his host the Sultan Awad bin Umar Al- Qu'ayti, who lived in India. Over the coming months this friendship cooled however, as he made an onslaught against Islam. By the end of 1903 this adventure had come to an end.
When Hoyer had first arrived in Aden en route to Makalla, he had stayed at the house of a Scottish mission founded by Ion Keith-Falconer, a Scottish orientalist scholar. A doctor name John Cameron Young had assumed the mantle of leadership of the mission after Ion's death,and he and Hoyer became friends. They agreed in the early months of 1904 to combine their missionary efforts . The Scots ceded responsibility for educational matters to the Danes and made a villa available rent free and granted Hoter access to facilities in the mission compound, so that he could establish a vocational training school. The medical proselytizing mission would remain the sole responsibility of the Scots. The Keith Falconer mission had tried to establish itself in Hodeidah, but had failed due to tension between the Biritsh and Ottoman empires.
The Sultan of Lahj Ahmad Fadl, one of Britain's most important allies, approached the Danish mission to do carpentry work in his palace. The mission had been renamed Danish Church Mission in Arabia. He sent Masjid, one of his men, a carpenter, to live in Lahj some 25 kilometers north of Aden, Masjid was treated by the Sultan as one of the household, his main job being to build wooden doors!
The Danish mission remained in Aden as a provider of education until after WW2 . Hoyer last visited Aden in 1928.Maria was active in trying to get Muslim women to liberate themselves from the restriction of Islam. The couple believed that women could perform more tasks in the Aden environment than men and were happy to see the arrival of three Danish women, including their daughter Ellen, who had been in Scotland. Ellen's contribution was significant, as she spoke Arabic fluently, better than did her parents. His dealings with the British were fraught with difficulties, compounded when his only daughter Ellen married my grand-father, then Major Harold Fenton Jacob, who had been the political agent stationed in Dhala at the time when the DKA was prohibited from settling in the town. He was now emotionally attached to one whose governent had been promoting British policy. It is curious that the Hoyers never socialised with the British, or anyone else come to that, notwithstanding the fact that their daughter had married an influential Englishman.
Over a twenty year period 1904-1923 the DKA only managed to baptize 7 people, most of whom reverted to Islam. It can be argued however that they improved the lot of the people there. They brought poineering efforts in education, expanded intellectual horizons and much else. Olaf's final visit to Arabia was in late 1927, after a long absence.
For a detailed account of the Hoyers' life in Arabia click HERE to read Dr Jonas Kauffeldt's dissertation "Danes, Orientalism and the modern Middle East..."
Sources: