JOHN BARHAM
Born - Died
He was a son of John Barham. He married Anne, sole daughter and heiress of Thomas Harris. They had children:
It was probably he and his brother Richard who were two of the nine trustees of a Canterbury charity which came to be called Harris's Almshouses, established by Thomas Harris in his life time. It consisted of five dwellings for the use of five poor families, occupied shortly before Thomas Harris's death by five old men and their wives. The premises were on the eastern side of Wincheap. Thomas Harris's will was proved on 8th June 1721. He had been a hop merchant, and no doubt his business prospered, as he also owned land elsewhere in Kent. For example, twenty-four acres of land in Ashford were sold by him to John Reeve of Maidstone and Elizabeth his wife in or before 1724 (Moulton Catalogue). It is through Thomas Harris that much property in Canterbury was acquired by the Barhams.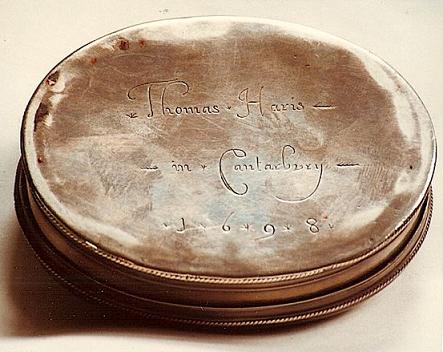 Sources:
Pedigree compiled by Dr T.G.B. Howe
Institute of Historical Research: British History Online.
Mike Durnall's website (vide Links): Moulton's Catalogue.
Image courtesy of Angela Walters.