DR EDWARD LONG JACOB MRCS
Baptized 3rd January 1834 - Died 25th May 1905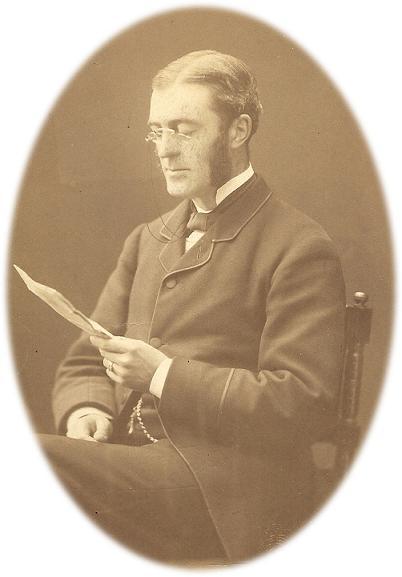 A son of George Andrew Jacob DD, he was bapized at Bromsgrove, Worcestershire, on 3rd January 1834, and died on 25th May 1905. He married Jane (Janice) Gordon Mortimer, the daughter of the Reverend George Ferris Whidbourne Mortimer MA.
He practised as a surgeon, commencing his career in Birkenhead in 1861. In a letter to 'his cousin', possibly Edgar Jacob, he tells him that his salary will start in the first year at £400, and rise in the third to £500. He was none too happy at living in Birkenhead however, which he describes as an unfinished town. There would also appear to have been some discord about family jewelry, which had been inherited; details are lacking, but it would appear that his sister and her husband William Jacob, a cousin, had received most of it.
Writing from Birkenhead to his Dear Cousin, he states that he is about to go into a partnership with the leading surgeon in Birkenhead, who has taken a fancy to me... he has a splendid practice. But this did not appear to have happened, as we find him back in London, where he was appointed medical officer for the districts of Reigate, Chertsey, Dorking and Epsom, in Surrey. He was living in Ecclestone Square, London, at the time.
I hope to be able to post a photograph of him shortly, but a description of him is given in a letter by Ernest Henry Jacob, his cousin, also a doctor, writing to his father Philip Jacob from St Thomas's hospital, where he was working: March 22nd (year unknown): I got down to Mortlake for the boat race on Saturday, going by train to Barnes and walking on... and hit on the tall restless spectacled form of Edward Long and attached myself to him. Herbert Boyce came by with two ladies....both Dixons to one of whom he is engaged and it turned out oddly enough that cousin Edward Long knows them both for years and they used to live at Birkenhead ... cousin Edward had a few people to lunch....his brother in law, an architect, an engineer and two medical men, and we had some food and talk. In the evening Edward took me up to the meeting of the Association of the Medical Officers of Health. In his correspondence he used his embossed coat-of-arms on his letterhead as is shown in the letter that can be accessed via the icon below.
His wife signed her letters as Janice, although she was known as Jane. I have a letters from her to my great grandfather George Adolphus Jacob. It would appear they looked after Adolphus's sons Frederick and Harold for much of the time that Adolphus and Emily his wife were in India. The extended family were very close at this time, Claud and Arthur Jacob, sons of Major-General William Jacob, also spending much time during their holidays with George Andrew Jacob, their grandfather, on their mother's side.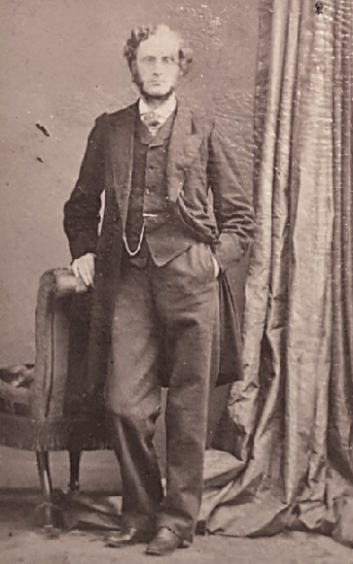 His obituary in the British Medical Journal of 30th June 1906 is as follows:
E. L. JACOB, B.A.LOND., M.R.C.S., L.S.A., M.O.H. REIGATE.

DR. E. L. JACOB, long so well known in the neighbourhood of Reigate, died in the last week of May, at the ripe age of 72. He was a son of the late Rev. G. A. Jacob, D.D., Head Master of Christ's College Hospital; he received his general education at Sheffield Collegiate School, of which his father was at that time in command, and took the degree of B.A.Lond. in 1853. His professional education, through which he passed with distinction, was pursued in turn at the Queen's University, Birmingham ; St. Bartholomew's Hospital, London; and the Rotunda, Dublin. Having become L.S.A. and M.R.C.S.Eng. in 1853, he served as House-Surgeon at the Royal Hampshire Infirmary, and then established himself at Birkenhead. There he was appointed to the honorary surgical staff of the Birkenhead Hospital, and carried on practice for a good many years. In the Seventies, however, he began to devote himself to public health studies, a class of work for which he was in every respect exceedingly well endowed, and in which he proved eminently successful. In 1873 he was chosen by a number of different sanitary authorities in Surrey as their Medical Officer, and thus became responsible for the hygienic progress of a very large and scattered area, including the Epsom, Dorking, and Reigate Urban and Rural Districts, populated by not far short of 200,000 persons. He carried on the whole of the work involved for very many years, but at length, in 1900 resigned all but that connected with Reigate. This also he expressed a wish to give up last year, having been somewhat out of health for some months, and he actually resigned his appointment in March last. To meet the convenience of his Council, however, he continued to perform the duties, although fully conscious of the risk of the continuance of strain, until a suitable successor could be secured and arrive. He thus came to die suddenly in harness from a rupture of a blood vessel. Dr. Jacob was possessed in a high degree of the qualities, tact, sympathy, scientific knowledge, energy, and businesslike habits, which go to make a really successful medical officer of health, and the value of his labours was very clearly recognized both by the Local Government Board and by the people among whom he lived. On his retirement from his Dorking and Epsom appointments in 1900 he was the recipient of an address and piece of plate "as a small appreciation of the duties he had performed and the friendships he had made," and his death evoked marked expressions of regret from all quarters. His personality was so well brought out in a note in a local paper that some of the lines are' worth quoting: Whenever he was consulted on a case of infection it was surprising to find how thoroughly he had all details of the particular village at hand and even the house and family involved. Such facts could never have been gathered by one who did not make a religion of his work. There was probably no official who was more worried by more petty and stupid questions, and yet no one ever saw the serenity of Dr. Jacob disturbed. His urbanity, however, did not mean inefficiency. He was always on the side of progress; none knew better than he the wretched insanitary conditions which prevail in some of our villages, and once he had evidence of such nothing would move him from his point until the matter was adjusted as he wished. Many of his reports were blessings to the district council. After a long monotonous meeting they were read, and always contained some element which was a welcome relief. Dr. Jacob was a most devoted servant, a valued friend, a man to whom kindness was as natural as light to the sun, and, above all, a man whose self-denying work was appreciatecl by all and approached by few. Now, having served his own generation, he has fallen asleep. Resolutions of regret and condolence were passed by each of the three Councils whom Dr. Jacob had served, and Dr. E. C. Seaton, Medical Officer to the Surrey County Council, prefaced his monthly notification return with a corresponding homage to the deceased penned on behalf of himself and his colleagues. Dr. Jacob was buried at Wandsworth in the same grave as his wife, who predeceased him by seven years. They had no family, and since her death his house had been kept for him by his nieces. He was a member of the Reigate Division of the South-Eastern Branch of the British Medical Association.

Sources: