CREVEQUER PEDIGREE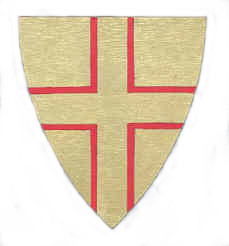 ---

Thomas Chiche, who was the son of Thomas Chiche of Canterbury, who married Agnes, one of the two daughters of Sir Bertram de Criol, knight. He was the son of Sir John de Criol of Eastwell (died in 1266) and the grandson of Sir Bertram de Criol and Emma his wife (see Criol Pedigree).
Sir Bertram de Criol married Eleanor, daughter of Hamo de Crevequer. He died in 1295 and she in 1301.
Hamo de Crevequer, the son of Robert de Crevequer, was Constable of Dover Castle, and Warden of the Cinque Ports, 7th Baron Chatham and 5th Crevequer. He married for his second wife Maude, daughter and heir of William d'Avranches (or de Albrincis), Baron of Folkestone. He died in 1263.
Robert de Crevequer, the son of Daniel de Crevequer, was constable of Dover Castle and Baron of Chatham living in 1161. He was buried at Leeds priory. He married Juliana, daughter of Alberic de Vere, the chamberlain, and the widow of Hugh Bigot, Earl of Norfolk. She was also the heir of Wakeline Mamimot.
Daniel de Crevequer was the son of Robert de Crevequer, who in 1119 founded Leeds abbey. He married Rohesia. He was the 4th Baron of Chatham and the 2nd of Crevequer.
Hamo was the son of Hamo dapifer and was probably the Sire de Crevequer of the 'Roman de Rou' and who fought at Senlac. He was sheriff of Kent.
Hamo dapifer was one of the four sons of Hamon Dentatus (some sources say two sons), 5th Count of Corbeil, Lord of Cruelli. He married Adis, half sister to William I. He bore arms: Azure, a lion rampant or. Hamon was killed at the battle of Val-Es-Dunes in 1047

Source:
Miscelania Genealogica et Heraldica, 5th Series, Volumes 6 and 7, London, 1929-1931.
A detailed pedigree of this family, which will include new source material, is in preparation.