PEDIGREE OF THE DESCENDANTS OF
WILLIAM JACOB OF HORSEHEATH
who died in 1508
by Kenneth Jacob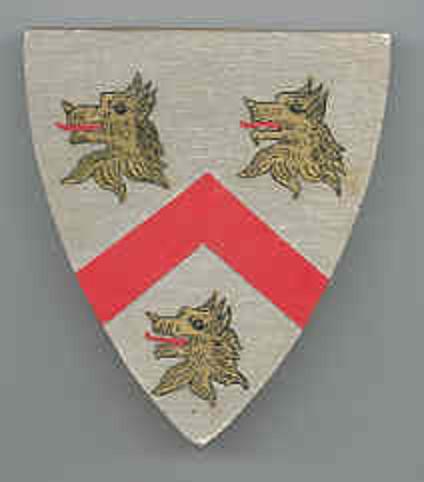 Foreword:
There were Jacobs in many parts of Cambridgeshire and adjoining counties in much earlier periods than that with which this pedigree begins.
The earliest reference I have found is of a Walter le Geg, who was a freeholder of the manor of Somersham, which was in Huntingdonshire, on the Cambridgeshire border; this in 1222. Le Geg can be a rendering of Jakes or Jacob.
In the two decades thereafter a Walter Jacob held land of the Abbot of Ramsey, Ramsey being a few miles distant from Somersham. The Christian name Walter, incidentally, is one of the earliest found so far for any Jacob in England. Walter Jacob appears in the period 1180-1225 in Yorkshire. The Pipe Rolls for that county show that a Walter Jacob had been fined by the Crown (we don't know what for) and in Michaelmas Term 1221 he still owed 74/8, having paid 1/2 mark into the exchequer, and paying off the remainder of the debt at 1/2 yearly (Pipe Roll Society, New Series Volume 48, page 126). This is a considerable amount of money for the period. The abbey of St Mary in York held the church of Haslingfield in Cambridgeshire and other lands there, where Jacobs occur from the late 13th century onwards. In 1242-1243 a John Jacob was a juror in Cambridge (Curia Regis Roll, Vol 17, No 1502). William Jacob of Haslingfield confirmed by charter various lands to his son Walter in 35 Edward III (1361-1362) (National Archives, E40/A101 83). Perhaps this is all too circumstantial, but it warrants further investigation.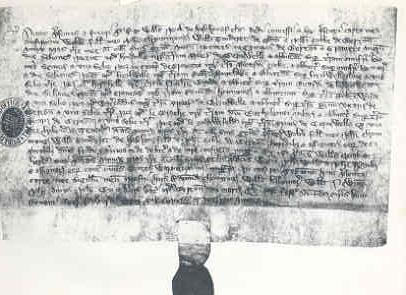 Charter of William Jacob of Haslingfield

In 1318 we have William Jacob and Joan his wife of Thorshagh (Horseheath), selling a messuage and a virgate of land in North Oakley in Hampshire to Andrew de Strode. If the same Horseheath as that in Cambridgeshire, the couple would appear to have owned land in more than one county, as their name occurs elsewhere as well.
A cursory glance at public records (some on line) show a John Jacob of Balsham witnessing a charter in the period 1210-1240. In 1299 we find a Hugh Jacob in Balsham, and later an Alice, who was assessed at 3s in the Lay Subsidy of 1326.
Cambridge itself offers us a partial pedigree. Thomas Jacob of Cambridge is recorded in the late 14th century, his widow Joan Eversden being alive in 1413, and together with her son Thomas witnessing a charter. Thomas went on to become bailiff of Cambridge and its mayor in 1430-1432. He died in or before 1442, probate to his will being granted on 19th June of that year. His wife was named Agnes (King's College Cambridge, MS Cam-61). Either he or his son Thomas was mayor in 1441, and Thomas the son in 1444. He had died by 1484. Two charters in the National Archives name a Thomas Jacob of Cambridge together with a William Jacob of Sudbury. Where they related? There was an important Jacob family in Suffolk, owning lands in Sudbury and Lavenham, one of the earliest Jacob wills still in existence being that of Mathew Jacob of Sudbury (pr 1423).
The Eversden connection here may be of significance. Many variants to the name of Jacob occur in this period. William Jake/s of Great Eversden , who had a wife Basilia, is named extensively in the Hundred Rolls. They had children James, Joan and Isabell. James had a wife Emma, mentioned in a law-suit in 1303, when he sued a number of people for insulting and assaulting him. Again, he and his wife were taken to court in a dispute over a house and land in Great Eversden in 5 Edward II (1311-1312). In 1315 Robert de Wortham sued John Jakes of Eversdon and others in a plea of trespass in the county of Suffolk (http://aalt.law.uh.edu/E2/KB27no221/bKB27no221dorses/IMG_0178.htm). The name Jake/s continued in the Eversden area, however, and does so to the present day, so we don't know whether there is a relationship between this family and those of the name of Jacob, but it is possible. Certainly both names occur in the period 1280 - 1307 (Cambridge University Catalogue MSS 3627 & 3633).
I have not had the opportunity to collate all the research notes I have accumulated over the years. This history will be added to on an ongoing basis, but I offer what I know now and would welcome any corrections and additions from the reader.
The immense wealth of material available should enable one to take the following pedigree much further back.
It begins with:
WILLIAM JACOB
of Horseheath
Died in 1508
His wife was named Joan and they had children:
1 John, who died in 1529; his wife was named Alice.
2 Robert, in whom the line continues.
3 Alice.
4 Jane, who married ---- Norton.
William's will is dated 1508. He gives his wife Joan his lands and tenements in Horseheath for the term of her life, as long as she remains unmarried. Should she re-marry or die, he wills his lands and tenements to his oldest son John. In default they are to remain to his younger son Robert. He also had a son Thomas, mentioned in the will of William's son Robert. He names two daughters, Joan Norton and Alice, to whom he gives bequests.
ROBERT JACOB
Of Horseheath
Died in 1518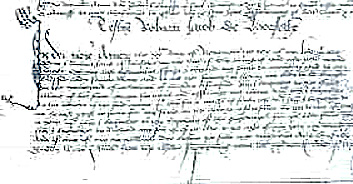 His will is dated 20th November 1518, probate being granted on 21st December 1518. His wife is named Katherine and he had a son Richard, who at the time the will was made was not yet 21 years old. He also had a brother Thomas.
Robert's brother John's will was made in 1539, probate being granted on 28th June of that year. His wife was named Alice, to whom he granted an annual rent of 40s out of his lands in Horseheath, as also his houses in Hinxhill and Haverhill, the latter just across the county border in Suffolk. John and Alice would not appear to have had any children, at least, none are named in the will.
RICHARD JACOB
Of Horseheath
Born after 1497 - Died in 1532
He married Anne Higham and they had at least one son Richard. More information on this couple is in the Cambridgeshire and National archives.

RICHARD JACOB
Of Gamlingay
died 9th January 1578
He is described as of Gamlingay, yet still held lands at Horseheath. He married Winifred, daughter of William Chambers, of Royston, and they had children:
1 Robert
2 Winifred
An Inquisition Post Mortem was held on him, in which it is stated he died on 9th January 20 Elizabeth (1578), Robert his son having pre-deceased him and Abraham, Robert's son, being his heir, he being 9 years old.
He appears in a number of legal suits and is party to many final concords. For example, in Easter Term 1561 (3 Elizabeth), he gave 6s 8d to concord with a number of people for 1 messuage, I orchard, 33 acres of land etc in Gamblingay (National Archives, Court of Common Pleas, CP40, m730). Again in 1571-2 (14 Elizabeth) he gave 6s 8d for a license to concord for the moiety of 6 messuages, 6 gardens, 100 acres of land, 24 acres of pasture, 6 acres of wood in Gamblingay and Ethol (Ibid, Roll 137, m1381). It should be born in mind that with Final Concords (Fines), it was the custom to exaggerate the number of houses and acreage being conveyed. Most authorities state they were doubled in size.

ROBERT JACOB
Of Gamlingay
Died in 1573
The son of Richard and Winifred, he must have improved his family's fortunes by marrying Catharine, the daughter and heiress of William Abraham, a wealthy London merchant, and Jane his wife, the daughter of Robert Bostock of Cheshire (British Library, Additional Manuscript 24121, folio 4). Like his father he died relatively young. He and Catherine had children:
1 Abraham, born in 1570, buried 6th May 1629.
2 Robert, of Abington by Shingay, in Cambridgeshire, ancestor of the Jacobs of Wexford, in Ireland.
3 Joseph, died in 1647. He had one son Clement and 3 daughters.
Robert's widow Catherine went on to marry Francis Knollis of Gamblingay (Miscellania Genealocica et Heraldica).
Had it not been for this marriage, this family may well have remained members of the minor gentry in Cambridgeshire. Fortunes were to be made in the city of London, and many in this period went there to seek them.
This pedigree continues through the line of Abraham Jacob, before it comes to an end for lack of heirs. It is then continued through the descendants of Abraham's brother Robert.

ABRAHAM JACOB
Of Bromley by Bow, London
Born in 1570 - died on 6th May 1629
On 27th January 1591-2 a marriage license was granted to Abraham Jacob of All Hallows the Less, London, Gentleman and Mary Rogers of the city, spinster, daughter of Francis Rogers of Dartford, Kent, gentleman. They had children:
1 Francis, bpt 1593
2 Ellen, bpt 1595, the wife of Thomas Holt (or Rolt) of St Martin in the parish of Darenth, in Kent. They had 2 sons and 2 daughters.
3 Sir John, his heir, bpt at Gamlingay in 1597.
4 Mary, bpt 1599, she married George Bury of Cranfield in the county of Bedford, the son of Henry Bury and Elizabeth Danser.
5 Elizabeth, bpt 1600, the wife of Thomas Wilmer JP, of Stratford-by-Bow in the county of Essex. They had children Abraham, Jacob, Thomas and Mary.
6 Richard, bpt 1602
7 Barbara, bpt 1604, the wife of Robert Seyliard of Gabriells in the county of Kent
8 Frances, bpt 1604
9 Henry, bpt 24th September 1607 at Gamlingay, whose Godfather was Sir Henry Savill knight, Godmothers Mris Borwne and Mris Knooles (BT Horseheath).
10 Abraham, bpt 21st October 1604 (St Helen's Bishopsgate).
11 Robert bpt 12th February 1610 (St Helen's Bishopsgate).
12 Anne, bpt 1612
13 Darcy, bpt 1613 in Kent.
It was Abraham who bought the manor of Stanstead Hall in Halstead, in the county of Essex. In Trinity Term 1626 he paid 70s for a license to concord with Sir Oliver Luke, knight and others for its purchase (National Archives, Recovery Roll, 2 Charles I, m89). A deed for the performance of covenants in the sale of the manor between him and Sir Oliver Luke, Sir Robert Cook, of Higham in Gloucestershire and John Cook exists. It is dated 12th May 1626 (Essex Record Office, D/DHt/T119/63). There are many records in the Essex archives relating to Abraham Jacob and his descendants.
Both he and his son John were farmers of customs at London. They are frequently mentioned in public records. They would appear to have attained this post by initially supplying the King's household with sweet wines.
As early as 4th January 1604 a Commission under the Great Seal granted Abraham the privilege to buy and transport wines to the Royal household from London to Southampton (sic) (types of wines and costs given).
On 14th August 1606 a warrant was made to pay the arrears due to Abraham Jacob on a contract for the provision of sweet wines for the King's household (State Papers - Domestic). On 25th July 1607 a grant was made to Jacob Brown and Abraham Jacob of the office for the provision of sweet wines for life (ibid). The Crown's need for money must have entailed them re-negotiating that grant, as on 30th September 1619 we are told that another was also involved in the privilege of supplying sweet wine at £450 yearly rent. However, on the same date a lease was granted to Sir John Woolstenholme, Abraham Jacob and others of customs and duties on sweet wines for 8 years at a rent of £10873/19/9, being an increase of £1878/19/9 on the previous rent (ibid). So, he had by now become involved in not only supplying the King's household, but also collecting the customs on the import on these. The Crown was astute, however, in that not all types of wine were involved. Rhenish wines, for example, were excluded and treated separately.
It was not just on wines that Abraham collected duties, but also on Tobacco. On 22nd September 1620 a grant was made to him for £3000, and to him and his son John for the office of collecting duties on Tobacco for life. He was also involved on collecting poundage on the export and import and duties on the exportation of beer and woolen remnants (ibid). He was a supplier of sugar to the Royal household. On 2nd May 1626 there exists a petition of Gilbert Keate and George Turberville, refiners of sugar, that Abraham Jacob may be ordered to pay to petitioners the amount due to them for sugar supplied for the use of the King's household. Many more references exist in the State Papers and Patent Rolls.
It was not just at London that he was collector of customs. We find a bond dated 10th June 1624 between Edward Aglionbye of City of Carlisle, to Thomas, Viscount Andover or his attorney - to make account for the Customs, subsidies, tolls and tallages due to the King from the City of Carlisle and County of Cumberland which the said Edward, "his Agents and substitutes", have collected since "the Feast daie of the anunciation of the blessed Ladie St Mary the virgen" last past (25 March 1624), which Customs etc. rightly belong to the said Thomas, Viscount Andover, who has sub-let them to Sir John Wolstenholme, Knight., Henry Carway, Abraham Jacob, and Morris Abbott Esquires; to make account therefore to these four or their Deputy or Substitute by them deputed as receiver and to pay them all the money named in his accounts, before the last day of July next, "without fraud or Covin" (collusion).
He also owned lands in other counties, in Huntingdonshire, Kent and Somerset for example.
He died on 6th May 1629. The funeral service was held at St Olave, Hart Street, in London on 8th May and his body carried to Bromley St Leonards.
A copy of his will is in the Essex Record Office (Essex Record Office, D/DHt/T119/66) It is dated 4th April 1629. In it he leaves legacies to his wife Mary, his son John and his wife Elizabeth, to his son Robert and his son Darcy. Daughters named are Elizabeth Wilmer, Mary Bury, Barbara Silliard and Ellen Holt. Properties named are in Gamlingay and Morton, Cambridgeshire, Bromley in Middlesex, Stanstead Hall, Halstead and elsewhere.
His widow Mary was alive in 1632, as on 11th June of that year, she quitclaimed an annuity out of lands at Halstead and Gamlingay to her son John (Essex Record Office, D/DHt/T119/72).

His son John had a monument erected in memory of his parents in the church o St Leonard Brombley-by-Bow. It was described as most beautiful and original in design. It bears the date 6th May 1629, the date of Abraham's death. It was about 13 feet high and 6 feet wide, made of alabaster and coloured marble, and built high up on the South wall of the nave against the chancel arch. Between three detached marble columns with gilt caps were figures of Abraham and his wife Marie, kneeling on cushions, with clasped hands and facing each other, dressed in the costumes of the period. At the back of them were two arched recesses. The columns each supported, and were united to the back of the monument by an entablature, each carrying a shield on top. That over the centre column, which was larger than the others, bore the following arms:- Quarterly, 1st and 4th, arg., a chevron gu between 3 wolves' (sic, an error for tigers') heads erased sa, for Jacob, 2nd and 3rd three trussed lambs arg. Crest: A lion statant, sa. The shield over the column on the side nearest to the chancel bore the charge - Jacob impaling arg, a chevron between three stags passant, attired or, and that on the opposite side the arms of Jacob only.. There was a Latin inscription.
A particularly interesting portion of this monument was the charming way in which the children and grand children were shown by the shields and vine leaf decoration in the space above the inscription.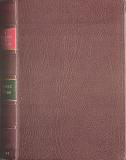 SIR JOHN JACOB, 1st Baronet
Baptized 12th December 1597 - Died between 2nd February and 16th April 1666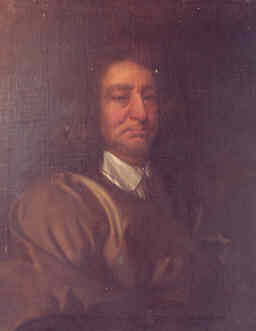 He was baptized on 12th December 1597 at Gamlingay. He matriculated 17th January 1617 at Merton College Oxford, BA 6th February. He married for his first wife on 2nd May 1625 at Bromley-St-Leonard Elizabeth, daughter of John, a grandson of Sir Leonard Halliday, Lord Mayor of London. They had children:
1 Susanna, bpt 11th October 1627 (Bromley St Leonard, Middlesex), On 11th June 1649 she married Sir Richard Wingfield, bart, of Letherington in Suffolk (St Dionis Backchurch, London).
2 Abraham, bpt 30th October 1628 (Bromley St Leonard, Middlesex), alive in 1650.
3 Henry, bpt 1630
4 Mary, bpt 23rd May 1633, buried 19th July 1633 (Bromley St Leonard, Middlesex)
5 John, bpt 8th May 1634, buried 25th April 1635 (Bromley St Leonard, Middlesex)
6 Alicia, bpt 21st April 1635
Elizabeth his wife was buried at Bromley St Leonard on 29th March 1631.
Together with Edward Savage, on the nomination of the Duke of Richmond, he was granted a license to enclose within the park of Copthall, in Essex, lands not exceeding 400 acres in which they have an estate of inheritance, with grant of free warren in the park (Calendar of State Papers 1623, December 26th).
He acquired further land in Halstead in Essex. On 22nd October 1629 he bought of Roger Osborne of Audley, Essex and Alice his wife a messuage called Hodges, in Halstead (Essex Record Office, D/DHt/T119/68)
On 28th November 1629 he made a recovery, John Hayes and John Bland being plaintiffs, he deforciant to a messuage, 10 acres of land, 3 acres of meadow, 10 acres of pasture in Halstead (Essex Record Office, D/DHt/T119/67)
On 9th August 1631 he entered into an agreement with Richard Harlakenden of Earls Colne Esq. in respect of 14 acres of land called 'Kemborne Meadow', and the tithes arising from it, part of the manor of Stanstead Hall, Halstead, which he had inherited from his father (Essex Record Office, D/DHt/T73/31).
In 1632 he married his second wife Alice, the daughter of Thomas Clowes of London, the widow of John Eaglesfield, of London, merchant. She brought a two year old daughter Martha into the marriage. They had children:
1 Mary, bpt 23rd May 1633, buried 19th July 1633
2 John, bpt 8th May 1634, buried 25th April 1635
3 Alicia, bpt 21st April 1635
4 John, bpt 11th May 1637
5 Elizabeth, bpt 10th December 1642
6 Elinor, bpt 3rd July 1644
There were I believe other children whose details I do not have to hand, but will add at a later date. His wife Alice was buried at Bromley St Leonard on 26th September 1646.
He was made a knight on 8th May 1633 at Whitehall, when he was described as of Standstead Hall in Essex.
In 1634 he bought the manor of St Leonard, Bromley from the trustees of the city of London. Described as the Priory, Manor, Tithes and Advowson, Rectory and Parish church of Bromley St Leonard (by Bow) in the county of Middlesex. This became his principal seat, the manor comprising the greater part of Bromley parish. He determined to build a manor house and accordingly razed the old Priory house to the ground. On or abutting the site he built a red brick edifice. It was apparently an imposing building, with views over the counties of Middlesex, Essex, Kent and Surrey, with the river Thames flowing between.
Attached to the house were spacious gardens extending to the river Lea with a park to the South, the whole being enclosed with massive wall in red brick. In each of the walls was a doorway of ornamental workmanship The western gate was the entrance to the house, the northgate leading to land called 'the wilderness', in an old map called 'the rabbit warren'. This is amusing when one reflects what the area looks like now. The eastern gate opened on the banks of the river Lea. The southern gate was the entrance to the park, comprising some 8 acres of land.
The house had been built on ground considerably elevated and there was a descent from the upper level to the lower by a flight of steps, the upper ground supported by a strong brick wall. In this wall there had been a subterranean passage, leading to a bath 'in excellent preservation with a good supply of excellent water'. Whether this bath was constructed by John or was in use by the nuns of the old priory is uncertain, but it is likely that the gardens, rabbit warren, fish ponds and the park had all been laid out and walled by the nuns, so that John's principal work had been the removal of the priory building and the erection of his new house. This in turn was completely demolished in 1784. Over the main chimney piece were found the arms of Sir John Jacob and of his wife, presumably his second wife Alice, widow of John Eaglesfield (nee Clowes).
Sometime before 1640 he bought the manor of Woodbury in Gamblingay, Cambridgeshire.
On 9th January 1634 he bought from Edward Alliston of Earls Colne and Mabel his wife the 'Peirsier Manor' in Halstead (Essex Record Office, D/DHt/T119/74)
Things were going well for him in this period, being in receipt of a considerable income, stated to be £3000 per year clear. It was almost certainly more than that. All this was to change dramatically during and after the civil war.
On 16th May 1635 he bought of William and Robert Tiffyn the manor and advowson of Wakes Colne, Wakes Hall and other lands in Essex (Essex Record Office, D/DH/VIB16 & 17).
On 1st October 1639 Sir John created a marriage settlement in favour of his brother Robert. Parties to the deed were Sir John, Robert and Giles Bury of Bradwell-on-Sea, DD (Rector of Bradwell 1615-1644) and Katherine his daughter, on her marriage to Robert Jacob. Settled on her was 'The Great Lodge' Earls Colne (Essex Record Office, D/DHt/T73/40).
He was MP for Harwich in the short parliament, April - May 1640. In the Long Parliamt he sat for Rye and Winchelsea, elected on 3rd November
1640. In order to raise money for King Charles I he mortgaged his manor of Woodbury to his brother Robert.
On 21st January 1641 he was expelled by the Parliamentary Party and suffered greatly. His estates were sequestered. The manor of St Leonard's passing into the hands of Abraham Wilmer, husband of his step-daughter. In 1642 he was imprisoned at Crosby House for a considerable period, refusing to contribute money for the Parliamentary cause.

On 17th February 1642 he entered into an indenture with Robert his son and others for the love of his second son Henry, by his first wife Elizabeth and to continue the lands in the name and blood of Jacob, agreeing to hold the manor and advowson of Colne Wake, and Wakes Hall for life, with remainder to his son Henry Jacob and heirs corporate, and in default to his eldest son Abraham by his first wife and heirs corporate and in default to his own right heirs. If he settle other lands to the clear value of £200 per annum in lieu of these, this indenture to be void. (Essex Record Office, D/DH/19). The language used shows a strong sense of family and the desire to see his line continue.
On 22nd February of the same year he leases for 99 years the above manor to James Noell, citizen and scrivenner of London (Essex Record Office, D/DHt/T72/0)

On 17th February 1643 he added to his wife's jointure a number of pieces of land, viz `The Busslet' (7 acres) by way from `Cattesbridge' to Coggeshall, also `Bushet Mead', a messuage called `Goodales' and `Kemball Mead', Halstead (Essex Record Office, D/DHt/T119/76).
His second wife died on 26th September 1646. In 1651 he married his third wife Elizabeth, daughter of Sir I Ashburnham. By her he had a daughter Margaret, born 14th October, and baptized 15th October 1653. Margaret married by license Ambrose Muschamp of Row Barnes in Surrey, the marriage allegation dated 27th July 1677, he being a bachelor aged 24 and she a spinster aged 19. Her mother Lady Jacob alias Wogan consenting; at St Botolph, Aldersgate, London. His widow had married Sir William Wogan, knight, serjeant at law; she died in 1697.
The manor of Stanstead Hall, Great Lodge and other lands, were used to increase the jointure of his wife Elizabeth and make a marriage settlement for his son and heir John, due to marry Katherine Allington (Essex Record Office, D/DHt/T119/79).
On 23rd July 1650 he, together with his sons Abraham and Robert, as also Abraham Wilmer, entered into an agreement with Sir Harbottle Grimston of Bradfield Hall, Baronet, in respect of the manor of Colne Wakes alias Wakes Colne. It recites a bond dated 23rd July 1650 in the sum of £2000, to be void on fulfillment of certain covenants. It also recites deeds dated in 1645 conveying the manor to Robert Buxton, John Shaw and Sir Harbottle Grimston, such conveyance to be completed by Abraham and Henry his sons on their reaching their majority. He was plainly desperate to repay his debts whilst trying to hang on to his estates.
He and his fellow customers had lent the Crown considerable amounts of money and after the restoration, the Crown was unable to repay these. He suffered greatly financially and in consideration of this he was created a Baronet on 11th January 1665. On 28th Aug 1662 a warrant from Treasurer South to the Attorney General for a bill for grant of the office of customer and collector of the petty customs of woolen cloths in the port of London was granted him and Henry his son. Sir John Jacob and Robert Selyard had been appointed by letters patent to this post on 4th July 1624 (Treasury Books).
The pressure to repay debts, much money owed to third parties, was immense. He had also been fined by Cromwell's parliament. A petition by Sir John Wolstenholme, knight, to the Lord Chancellor, Lord Treasurer and other officers of state for an order to Sir John Jacob and others, the old farmers of the revenue to bring in their accompts (accounts) with a view to repayment to him of what he had paid above his proportion of a fine of £150000 set by the late parliament, with an order thereupon dated 25th February 1663 (Bodleian Library, Oxford, Rawlinson MSS 923, fol 326). He had subsequently to sell many of his lands, a process that was continued by his son and heir John.
Notwithstanding this, he designed and started the building of a range of almshouses in Gamblingay, which stand to this present day.
His will is dated 16th February 1666, proved on 2nd April 1666, with a codicil attached.
Published were the following:
'Publicanus Vindicatus: or, a short narrative on the occasion and obstruction in the payment of the late King's debts, contracted upon the customs etc.' London, 1654. 4o. (British Library 8225 a 67) and 'A remonstrance of the case of the late farmers of the customes, and their humble petition to the Parliament. London, 1653, s sh folio (British Library 669 f 17 (55))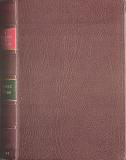 SIR JOHN JACOB 2nd Baronet
Born 11th May 1637
He was the eldest surviving son of Sir John Jacob and inherited the Baronetcy. He married the Honourable Catherine Allington, daughter of William Lord Allington, a family long settled in Horseheath.
He had to dispose of much of his inheritance to repay his father's debts. On 22nd December 1664 he conveyed to Lord Allington and Sir Thomas Leventhorpe of Shingle Hall lands in Cambridgeshire, Stanstead Hall and Great Lodge in Earls Colne (Essex Record Office, D/DHt/T119/78).
On 16th June 1675 several manors and lands late of Sir John Jacob in the counties of Essex, Huntingdonshire, Cambridgeshire and Somerset, which had been extended for non payment of his part of the arrears of £30000 payable to the king by him and other late farmers of the customs and which were afterwards paid by William Wogan Esq and William Maniston of London, merchant, purchasers of the greatest part of the said extended lands of John Jacob, were granted to Sir Denny Ashburnham and Sir James Edwards (Treasury Books).

SIR JOHN JACOB 3rd Baronet
Of West Wratting, Cambridgeshire
died on 31st March 1740
Son and heir of Sir John 2nd Baronet, he married Catherine, daughter of Richard Barry, third Earl of Barrymore. They had children:
1 Hildebrand, died on 3rd June 1739.
2 Anne, who married James Herbert.
3 Catherine, who married the Reverend Abraham Oakes.
4 Elizabeth, who married ---- Mee.
5 Dorothy, baptized 27th May 1703 at Newmarket-St-Mary. She married Captain J Morley of Halstead, in Essex, at Withersfield, in Suffolk, on 12th August 1728 (Withersfield Parish Register).
He went early into the army, almost all his father's estates having been seized by the creditors of his grandfather, for money he had lent King Charles I, which was never repaid by the crown. He served for 17 years in the reigns of James II and William III, in the latter as colonel of a regiment of foot, which became known as Jacob's Regiment of Foot, and which commission he resigned in favour of his brother in law James, Earl of Barrymore. The Regiment became the Somerset Light Infantry in 1751. Sir John was at the battle of the Boyne, sieges of Cork and Kingsale, and was severely wounded at Killicranky. King William, who had a high esteem of him, constituted him Colonel of Hasting's regiment.
An officer of his Regiment of Foot, Captain John Nonfan, was put forward for the position of Lieutenant Governor of New York on 10th May 1697 (State Papers - America and West Indies).
On 19th March 1717, described as of West Wratting, in Cambridgeshire, he was forced by need of finance to lease his manor of Stanstead Hall in Halstead to Marmaduke Allington of Lincoln's Inn and William Allington (Essex Record Office, D/DHt/T119/82).
On 24th September 1716 he leased the same to John Morley, junior, of Halstead, gentleman (Essex Record Office, D/DHt/T119/86).
He was executor of the will of Lord Allington and acted in that capacity on 14th December 1733 (Essex Record Office, DE/AS/84)
His will is dated 12th February 1738, wherein he is described as of West Wratting, in Cambridgeshire. He left his lands in Essex, in the parishes of Halsted, Earls Colne and Gains Colne, and a house and land in West Wratting to his son Hildebrand, who had married Muriel Bland in 1717 and to their heirs male. In default of such heirs then the above to go to his daughter Dorothy Morley and her heirs forever, on condition they pay his daughter Catherine Oakes £6000, that being the full value of the estates before Mr Morley improved them.
He states that whereas his son Hildebrand is very infirm and his grandson Jacob (Hildebrand) not like to marry while he live, and it may be never, if they wait for a great revolution which some vainly expect, he gave in trust to John Morley Esq of Blue Bridge in the parish of Halsted and to Captain John Morley his son in law and to Messrs Hoare and Arnold, bankers and partners in Fleet Street the sum of £30000 to purchase an estate in land which he gave to his son Hildebrand for and during the term of his natural life and after his death, in default of heirs male, to be divided equally between all his grand and great grandchildren. He also left to Hildebrand a legacy of £3000 and to his daughter Ann one of £2000. Notwithstanding the losses of most of his family's estates, he was still patently a man of means.
His remarks about his grandson Hildebrand are revealing. He has been described as an 'indelicate poet', and reading some of his poems as I have, they do suggest he was rather eccentric.

His will contained a number of codicils. The first dated 21st June 1739 states that he makes his grandson Hildebrand residuary legatee in the place of his father, and for that reason revoked the £3000 legacy. He bequeaths the £3000 as follows: £1000 to go to Marmaduke Allington Esq and to Messrs Hoare in trust for his daughter Catherine Oakes, independent of her husband. £1000 he gives to his granddaughter Ann Jacob. £500 he gives to his daughter Elizabeth Mee, independent of her husband and the remaining £500 he gives to his grandson Barry Morley. He also leaves to his granddaughter Catherine Oakes his chariot and everything that belongs to it, his two silver saucepans here in the country, his silver tea canister in London, his mother's picture, his wife's picture, Hildebrand Lord Allington's picture here in the country, her own picture, the Duke of Somerset his picture, the Countess of Barrymore her picture and Colonel Barry's picture. To his daughter Morley he gives his grandfather Jacob's picture and Mr Allington's picture.
The same day was declared a further codicil. Whereas in his will he has given an annuity to Fielder and tied his house in Charges Street as a supernumerary security for it, he revokes this and gives the leaser to the house to his daughter Jacob. Whereas Fielder begged of him a copy of his picture (Sir John's) taken by miss Jacob and he having given him another in its place, I leaves Miss Jacob her own copy. He gives her all his old China in London. He wills that his son Morley pay £10 a year to his cousin Grace Ryves for her life out of the profit of the £500 he gave to his late son Barry. He leaves his watch and gold sleeve buttons to Barry Oakes.
A further codicil dated 22nd November 1739 declares that £300 interest per annum out of the £30000 to purchase an estate be paid to his daughter in law Merrield (sic) Jacob after she gives up her right to his estate in Essex that is settled upon her as a jointure. This was dated 30th March 1740.
He died on 31st March 1740, and was buried at Withersfield, in Suffolk, on 4th April (Withersfield Parish Register).

HILDEBRAND JACOB
POET
Born 1692/3 - Died 3rd June 1739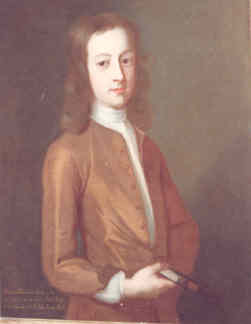 He married Muriel (1690-1744), daughter of Sir John Bland, fourth Baronet, of Kippax Park in Yorkshire in 1717. They had children:
1 Sir Hildebrand.
2 Anne, who married James Herbert.
3 Catherine, born in 1695, who married the Reverend Abraham Oakes LLD, sometime rector of Long Melford and of Withersfield. They were grandparents to Sir Thomas Oakes, Baronet.
4 Elizabeth, born in 1696.
5 Dorothy, born in 1703, who married Captain John Morley of Halstead in Essex.
Like his father he chose to enter the army, although not having much success in this his chosen career. On 1st October 1694, as an infant, he was granted a commission as ensign to Capt Bouheran in Brigadier Hasting's regiment, the 13th Regiment of Foot, of which his father was Colonel. On 7th July 1702 he was granted a commission as ensign in the Earl of Barrymore's regiment of foot. On 27th January 1705 he was commissioned a Lieutenant in the regiment. (Calendar of State Papers). He was still serving in the army in 1715, but it is not known whether he saw active service.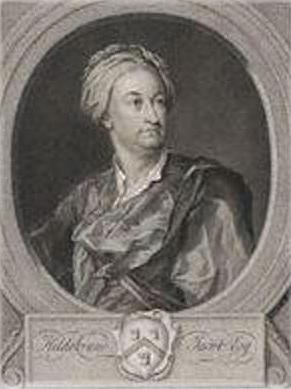 The army was obviously not a career for which he was suitable. On 19th December 1710 he wrote to his uncle Lord Allington at his lodgings in Pall Mall to desire his uncle the Earl of Barrymore to restore him to his former post in his regiment and give him leave to go with him to Portugal in the next campaign; his inclinations call him to arms or court more than anything else, but he does not neglect his studies, and understands both Latin and Greek perfectly well. West Wratting (Bodleian Library, Oxford, Rawlinson MS 861).
In 1720 he published a clever but indelicate poem, The Curious Maid, which was sometimes attributed to Prior and was frequently imitated. In the following years he produced a stream of anonymous ribald poems, not all of which he acknowledged in his collected works (1735). For the stage he wrote The Fatal Constancy (1723), a blank-verse tragedy acted six times at Drury Lane, twice by Command of the Princess of Wales, and the Nest of Plays (1738), consisting of three one-act prose comedies, The Prodigal Reformed, The Happy Constancy and the Trial of Conjugal Love, whose single performance at Covent Garden on 25th January 1738 was disrupted by protesters against the recent Stage Licensing Act. He also wrote two prose essays on aesthetics, Of The Sister Arts: An Essay (1734) and How the Mind is Rais'd to the Sublime (1735).
He died on 3rd June 1739 at Clarges Street, Mayfair, and was buried on 5th June at St Anne's, Soho, during the lifetime of his father.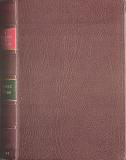 SIR HILDEBRAND JACOB, 4th Baronet

Born 1717/18 - Died 31st March 1790
He was baptized on 13th February 1718 at St James, Didsbury, Lancashire, his mother's former home. He matriculated at Oxford (University College) on 25th May 1736, aged eighteen. It is said he was excelled by few as a general scholar, and 'in knowledge of Hebrew scarcely equalled'. His only recorded academic honour was an Oxford DCL conferred on 8th July 1756. He succeeded to the Baronetcy on the death of his grandfather on 31st March 1740, and made his seat at Overwell, Gloucestershire; he also owned houses in London and Ewelme, Oxfiordshire.

He was rather eccentric. It is said that in early life, as soon as the weather was fine and the roads good, he would set off with his manservant and very little luggage, 'without knowing whither they were going'. When it drew towards evening they enquired at the nearest village whether the great man in it was a loved of books, and had a fine library. If the answer was in the negative, they went on farther; if in the affirmative, Sir Hildebrand sent his compliments, that he was come to see him, and there he used to stay till time or curiosity induced him to move on (Gentlamn's Magazine).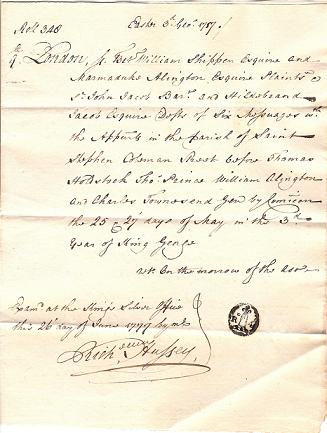 He died unmarried on 4th November 1790 at Malvern Wells, Worcestershire and was buried on 22nd November at St Anne's, Soho. He left a fortune of well over £45000.

Never having married his estates were to be divided between his family, according to the will of his grandfather Sir John Jacob. He made a will and left a Mr Bland of Yorkshire his executor. There appears to have been a dispute as to the intentions of John Jacob's and Hildebrand's wills (Jacob MSS)
Elizabeth Garnham, a descendant of Sir Hildebrand 4th Baronet, is informed by a Joseph Ady, hatter of 16 Hounsditch, London. that money is due to her. He would advise her of the details in receipt of 25% of the monies. This in a letter dated as late as 30th January 1818 (Jacob MSS). So the settling of the estate and other assets from the will would appear to have been messy and dragged on for some time. Whether the foregoing was a scam or not, I don't know.
Most of the legacies must have been bequeathed. There is a letter from a W Knighton to Kitty Oakes of Bluntisham, stating that she is now well off after receiving her legacy, he still being a poor man. Can they resurrect their relationship?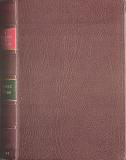 ---
Now follow brief pedigrees of some of his descendants not bearing the Jacob name.
REVEREND ABRAHAM OAKES
He married Katherine, the daughter of Sir Hildebrand Jacob 4th Baronet. They had children:
1 Lieutenant-General Henry. His daughter Antonia married ---- Wildman and had two daughters Antonia and Sophia.
2 Barry Herbert.
3 The Reverend John Jacob Oakes, of Bluntisham, who married Dorothy Wrangle.
4 Lt-Gen Sir Hildebrand Oakes.
5 Catherine Oakes.

REVEREND JOHN JACOB OAKES
He married Dorothy Wrangle and they had children:
1 Catherine Oakes, born 13th May 1761, who married John Wilson.
2 John Jacob Oakes, died in 1759.
3 Dorothy Oakes, baptized 15th August 1757, buried 10th November 1826.
4 Elizabeth Oakes, born 20th February, baptized 22nd Febuary 1765. She married John Garnham.
5 John Jacob Oakes, who died in 1767.
He was inducted as rector of Bluntisham with the chapel of Earith by Mathias, Bishop of Ely, on 28th October 1768.

JOHN WILSON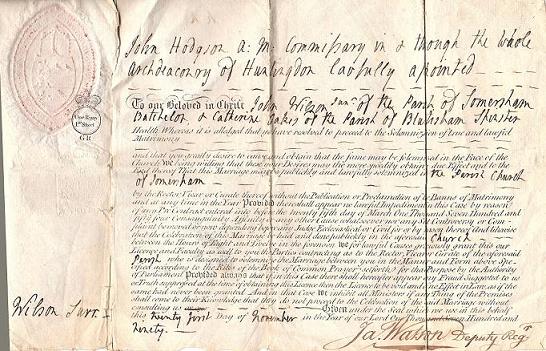 He married Catherine Oakes and they had children:
1 Dorothy Jane
2 John Oakes Wilson, who married Catherine Oakes in 1790. She died in 1831. They had children:

1 John Oakes Wilson, born in 1794. He married Mary King
2 Thomas, who died in 1797
3 Dorothy, who died in 1813
4 Elizabeth, who died in 1835

John Oakes Wilson married Mary King. They had children:

1 George.
2 Henry, who married Harriet Peaks.
3 Charles Jacob.
4 Jane, who married Thomas Barrett.
5 Mary Ann.

LT-GEN SIR HILDEBRAND OAKES BARONET
He made his will in which he is described as of Hereford Street in the parish of St George, Hannover Square, London. He left £25000 to his daughter Anthonia Mahena Wildman. Among various bequests is the picture of cousin Hoare, possibly of the banking family, described as his dear and good cousin. He also made bequests to his brother Lt-Gen Henry Oakes, including his gold mounted sword which was given to him by the staff and field officers of the Garrison of Malta and a large silver salver which was a gift from his cousin Mr Hoare. He had a nephew Hildebrand Gordon Oakes (Jacob MSS)

JOHN MORLEY
Of Halstead. He married Dorothy, the daughter of Sir John Jacob 3rd Baronet on 12th August 1728 at Withersfield, in Suffolk (Witherfield Parish Register). They had children:
1 John Jacob.
2 Hildebrand.
3 Alington.
4 Thomas.
5 Dorothy.
The above information is from the JACOB MSS.
---
We now return to Robert Jacob, the brother of Sir John Jacob, the first baronet.
ROBERT JACOB
Born 12th February 1610
A Marriage License was published on 3rd October 1639 wherein he, described as being aged 28, is to marry Katherine Bury, of Bradwell-Iuxta-Mare, aged 19, with the consent of her father Giles Bury DD at St Lawrence or Steeple, in the county of Essex. They had children:
1 John, bpt 17th September 1640 (Bromley St Leonard, Middlesex).
2 Mary, bpt 9th November 1642.

After his first wife's decease, he remarried. The Marriage allegation is dated 16th September 1643, his intended wife being Margaret, the daughter of Alexander Packer of the parish of King's Charlton in the county of Gloucester, she being a spinster aged 24, her parents deceased, at St Anne's Blackfriars. They had children:
1 James.
2 Alexander, a Turkey Merchant, of London, he married the Honble Elizabeth Brydges, daughter of Henry, 8th Lord Chandos. She survived her husband and married secondly the Reverend Thomas Dawson DD, Vicar of Windsor.
3 Robert, bpt 2nd March 1644.
4 Alexander, bpt 2nd March 1646/7.

ALEXANDER JACOB
Turkey Merchant
He married Elizabeth Halliday on 12th December 1691, the sister of James Ist Duke of Chandos, and the daughter of James Bridges, 8th Baron Chandos of Sudeley. They had children:
1 Alexander, born in 1692, died in 1746.

LIEUTENANT-COLONEL ALEXANDER JACOB

Born 1692 - Died 13th April 1746

He married Anne, eldest daughter of William Nokes of Bowers Court in Gloucestershire, who died on 23rd November 1769 and was buried at Whitchurch. They had children:

1 Alexander, born 26th December 1731.
2 Elizabeth, born in 1743.She married Frederick Cratzen

Elizabeth, who married Frederick Cratzen



REVEREND ALEXANDER JACOB
Born 26th December 1731 - Died 1785
He was educated at Worcester College and afterwards at Merton College Oxford. He took holy orders in 1760 and was chaplain to the Duke of Chandos. In December 1760 he became one of the chaplains to King George III. He married in 1756 Mary, the daughter of Robert Clement Esq of Bletchingley in the county of Surrey.
He died on 9th and was buried on 18th April 1785 in the Chandos Vault at Whitchurch, in Middlesex. They had childen:
1 ----
2 ----
3 ----
4 Clement Bridges
5 Charles, bpt 26th April 1761
He was given a license to print on 6th December 1765-9. The title of the work was 'A complete English Peerage, containing a genealogical, biographical and historical account of peers of the realm' (Home office papers). The book was published in two volumes at 5 guineas.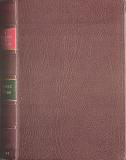 (SIR) CLEMENT BRIDGES JACOB 5th Baronet
Died 30th March 1804

The Baronetcy was assumed by him in 1790 on the grounds that he was apparently the heir male collateral of the grantee. He was the 4th cousin heir male being the last son of the Reverend Alexander Jacob.
He was unmarried in 1802, and died without issue on 30th March 1804 in his 46th year.

(SIR) CHARLES JACOB 6th Baronet
Born 26th April 1761
Sir Charles Jacob was his only brother and heir, born 26th April 1761, and succeeded to the Baronetcy on 30th March 1804. He died without heirs, when the assumption of the Baronetcy ceased and it became extinct, although some over the years have tried trace their descent from other male siblings of Sir John or his brother Robert Jacob.
From Robert Jacob are descended other branches of the family, notably Irish ones. I will treat these separately in due course.
Finally, I publish in its entirety a letter from Catherine Oakes to Alice Markham, dated at Hampton Wick September 13th 1775. This describes the marriage of one of their family. I have not been able to identify which as yet, but the parish register of St George's church, Hannover Square will supply this information. The account of the wedding is so charming and gives us a most fascinating insight into the fashions worn in that period.
Hampton Wick, September 13th 1775
My Dear Alice,
As yr uncle has lately wrote to your Papa as Mrs Oakes has now to your Mama, I address these lines to you; - You will receive with this some gloves, and Favours; which your Aunt desires. You will with the rest of the family accept as a Token of Regard from her; tho' as yet unknown to you. The favours you are to ware pin'd on your Breast, on the left Side. -
I was extremely sorry my Dear that I had not the Pleasure of your Company to this Place; as it wou'd have made all of Us here, very happy - but as your Coming was not approved of by your Papa - it was right, on all sides, to give up the Thoughts of it: for not on any Account, wou'd I have you disoblige Your Parents; in the most trifling Circumstance; and you show your good sense in obeying them, in every Particular without the least reluctance, which you seem to do, while I had the Pleasure of being to Bluntesham and which yielded me the highest Satisfaction to see.
Your Uncle, and Mrs Mackoun, were married on Saturday the 2d instant; at St George's Church Hannover-Square, in London, about ten o'clock - I suppose, such young Ladies, as You, and Your Sisters, would like to be inform'd how we were All dress'd, on the Occasion.
The Bride, had on a very fine muslin Gown, work'd by her own hands, in the Tambour, in a very beautiful Pattern, of natural flowers in Sprigs, with different colour'd silks; and lined throughout with pale pink Persian a hoop, with a white fring'd Petticoat; Pink Satten shoes work'd with Scallops of Silver; and Silver Spangles; and trim'd with a deep silver Fringe with white satten heals, and white Roses - in her Cap white Ribbanes, and white strip'd Gauze ditto; on her Breast, and Sleves - a Bonnet cover intirely with fine Blond net, and lines with pale pink; a white Sarsnet Cloak, trim'd with a narrow blond fine work'd Muslin Apron and Ruffles. A fine Laud Tucker, and a Otehuta Hankerchieft, which is made of Silk Gauze, wove in imitation of net and Pleated in Diamonds, at every Corner of which, are little knots, of narrow white Ribband - A black narrow Velvet Collar round her neck; and small rose Earrings, of Garnets, and small Pearls - Black velvet Bracelets, her hair very nicely dress'd and powder'd -
The Bridgegroom Cloths, were of fine Broad-Cloth, of a light Olive Colour, which is now the newest fashion trimed a narrow Gold Lace; and Gold work'd Buttons - white Silk stockings - shoe and knee Buckles double Gilt; with Laced Ruffles, and frill; his hair dress'd and powder'd; and a Plain hat - I had on a Night Gown, which is a white Grounded Silk, strip'd with white Satten Strips, very small Braided couler'd Sprigs, a Hoop, and white Persian quilted Petticoat - white Satten shoes, work'd by your new Aunt in the Tambour, with Gold and white Roses: a thread net lac'd suit of Linnin; and a Pattent laced Apron; a Cap with white Ribband, and white necklace, and Earrings: and a black velvet Collar - my stomacher and sleve-knots, the same as my Gown; which is trim'd with a Cheaneal, rose Colour'd, and white narrow triming, the chip hat, I had with me, at Bluntisham; and a white sarsnet cloak with a narrow blond lace, and a favour, like those inclosed to you - for I was Bridesmaid, in the sted of your Ladiship - the other Bridesmaid was a young Lady much of Your own Age - who was dress'd in a Blue, Strip'd Lutestring Sultans; with white Hat, Cloak, Ribband etc.
Mr Knight, who is brother, to your Aunt; gave her away; and his Lady, were all the Company: they are a very agreeable couple, about thirty - she was dress'd in a beautiful Lalick Lutestring Venetian Dress; trim'd with Strip'd silk Gauze, mix'd with white Ribband. Point-Laced Linnin, and small Earring - a white Chip hat, trim'd on the Crown with white, and lalick Gauze, adorned with Lalick flowers; her Cap and tippet was adorn'd with the same - white satten shoes with a LALICK Braid; and a very handsome black Laced Cloak, as she is so fine, fair Woman, this dress became her extreamly - Mr Knight, was in a sort of Lead Colour Coat; with a white Grounded Silk Waistcoat with rose colour'd and Gold flowers.
After the Ceremony was over, we set out directly for Camberwell, and Breakfasted at his house, there; and all of us, returned here to Diner; our Company left us on Monday noon following; the Weather has been so bad, here, ever since, that we have not been able to stir out but once, or any Body able to come, to see us - to Day we expect some Ladies to pay their Compliments to the Bride.
I have sent you some Pieces of the Brides Cloth. - the Pink is a Negligea, full trim'd with spotted Gauze, eddged with a narrow blond and white Tassels - The white is a Venetian Dress - full trim'd with a Figured silk Gauze, eddged as the other, and with white Silk Tassels - the Green, and white, is a night Gown, trim'd with white Gauze and white narrow Ribband which she wore, with a white butten Petticoat… She has likewise, a white Lutestring night-Gown; which she painted herself, in small colour'd sprigs of natural flowers; it is trim'd with a Pea-Green Gauze - I have sent a little Piece of my Gown, with the Rest - I gave the presents of Your, and Miss Kitty's to your Uncle, who seem to take it very kindly of you both - and was not less Pleased, with Miss Betsey, for her Kind Intentions; had it been in her Power - I assure ye your Presents are laid up with great Care, to keep for your Sakes - Stirbitch fair draws very near; I wish you all a very great Deal of Pleasure; and should have been quite happy to have met you there, had it been in my Power - I really think by this time; I must have almost tired you; and shall therefore conclude with our joint Love's where Due, not forgetting my Aunt and Uncle Mee, when you see them.
I hope soon to hear from you, which believe me, my Dear Girl, will give the highest Satisfaction and Pleasure
To her who is
Your Most Affectionate
Catherine Oakes
My Compliments to their Graces of Kent and Friends at Erith - not forgetting Friend Joey.
ARMS OF THIS FAMILY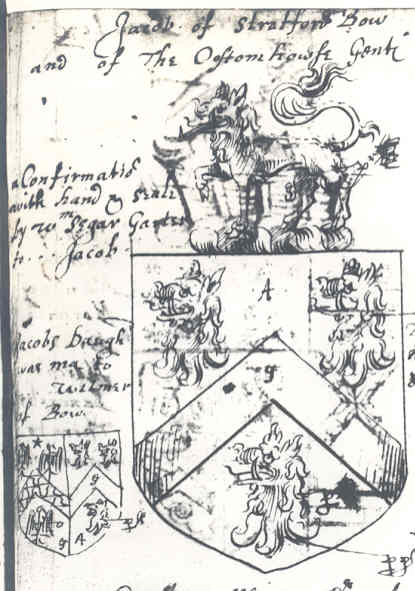 As far as I can see, the arms first appear in a grant by Sir William Segar (ca1564-1633), Garter King of Arms to Abraham Jacob (British Library, Harley MS ). They may well have been used by his ancestors before this date.
There exist many deeds bearing armorial seals of the aforementioned. I have a number of deeds of Sir John Jacob 3rd Baronet and Sir Hildebrand Jacob 4th baronet, although in later periods, ie 18th century onwards, not all were sealed with armorial devices.
Sir Hildebrand Jacob's arms are given as:
Quarterly, 1st argent a chevron, gu, between three tigers' heads, erased, proper, 2nd argent, three boars, passant, sable, 3rd sable, a bend engrailed between six billets, argent, 4th gules, three covered cups, or (Thomas Wootton et al, The Baronetage of England, Volume 2, p311).

Sources:
Jacob MSS (Original manuscripts and transcripts of manuscripts of this family in the author's possession, not in public repositories).
History of the Families of Jacob, by Glascott and Jacob, privately printed 1875
Dictionary of National Biography
Various other sources - as cited.