MRS BOUNCER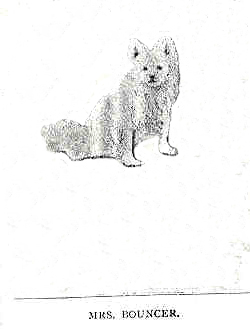 ---
Now - why should I write about a dog, you may well ask. Well, I sort of formed an attachment to this little creature, even though she had died a century before I acquired her tombstone.
I was in Canterbury and went into an antiques shop of an acquaintance of mine. There, propped up against a wall, partially obscured from view, was a tombstone. The inscription read:

THIS IS THE GRAVE OF MRS BOUNCER,
THE BEST, THE MOST FAITHFUL OF LITTLE DOGS
BORN NOVEMBER 5 1859

DIED AUGUST 9 1874

A HAPPY LIFE WAS PAST WITH THE EXCEPTION OF THE LAST 4 YEARS OF IT
AT HER HOME GADSHILL PLACE, HIGH BY ROCHESTER.

Looking at the supporting documentary evidence I discovered that Mrs Bouncer had been the dog of Amy Dickens, Charles Dickens's sister, and had lived at their house in Rochester.
I bought it. It had pride of place in our dining room. I found however that not everyone shared my interest in this item. A little macabre it was thought by some. Oh well, in the end I decided to dispose of it. I took it with me on one of my business trips to Hamburg. There I sold it to another dealer acquaintance, who sold it on to a well known German actress, as a birthday present for her husband!