IAN DUNLOP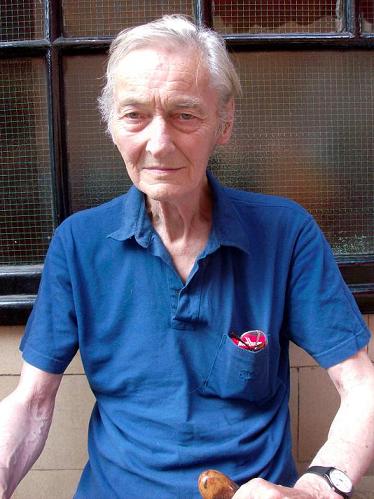 © Kenneth Jacob 2009
I read with sadness that Ian Dunlop died last week (KJ 17.7.2012) He had been one of the remaining , what I would refer to as, real Sohoites, those who were ensconced there from the early 50s onwards, and who knew most of the leading Soho characters in that period. Interesting characters they were even if, as far as some of them were concerned, a trifle obnoxious when drink got the better of them; but then why go to the French House or the Coach & Horses if not to get drunk! It was, and is, de rigeur.
Ian knew people such as the Barnard Brothers, Brendan Behan, Dan Farson, JAK (the cartoonist), Dylan Thomas, to name but a few. The current Soho intake is, for the most part, as far as I am concerned, decidedly boring.
Descended from the Dunlops of Dunlop, in Ayrshire, Scotland, an ancestor was Mrs Dunlop of Dunlop House, who was a patron of Robert Burns. Curiously enough he related to me only recently an interesting anecdote about a letter Burns wrote to Mrs Dunlop, enclosing what was basically a draft of "Auld Lang Sine". Unfortunately, so I am given to understand, that letter was sold for about £90 in the late 1890s. I would hate to think what it would go for now.
Ian had a great intellect and a sharp wit (and tongue, if called for).