Books written by Edward Jacob FSA of Faversham
Extracted from A Jacob Bibliography by Kenneth Jacob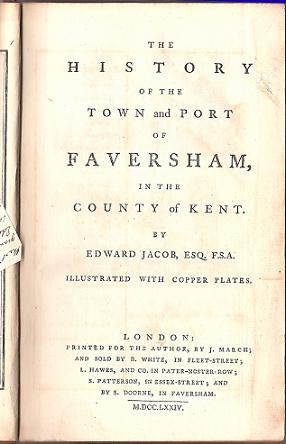 Map of Faversham

This was commissioned by Edward Jacob and subsequently used in his History of Faversham. Facsimiles are available in the heritage centre in Faversham. I am unsure as to when it was printed.
An Account of several bones of an elephant found At Leysdown in the Isle of Sheppey. Two letters from Mr James Parsons, MD FRS, date 24th May 1754. Philosophical Transactions of the Royal Society, Volume 48, pp 626-627.
Of Petrified Palates. Gentleman's Magazine, volume 25 (August 1755), pp 408-409 & plate; figs 1-3.
Arden of Faversham The lamentable and true tradgedy of Mr.Arden of Faversham in Kent, who was most wickedly murdered, by the means of his disloyall and wanton wyfe... with a preface; in which some reasons are offered in favour of it being the earliest dramatic work of Shakespear now remaining; and a genuine account given of the murder from authentic papers of the time. London : Printed for Edward White, 1592; BL 841 d 19 ( 2 ) and reprinted verbatim by J. and J. March, for S. Doorne at Faversham. London, Messrs. Hawes and Co., 1770. vi; 88o; 8 vo
Another copy. BO Vet. A5 e. 314 ( 1 ).
Another copy LC 25022304 2 p l (iii)-vi, (2), 88p, 21 cm;
Another copy HA 004086979
A Letter to Mr Dere (relative to Richborough) Octavo (see Smith 1837 p274)
The history of the town and port of Faversham Illustrated with copper plates.pxii, p222; B. White etc., London, 1774, 8o. BL 979.l.10
Another copy. BL 290.i.36
Another copy. BL G. 15982.
Another copy. BODL F 164 BS.
Another copy. BODL Gough Kent 14 ( 1 ).
Another copy. Printed for the author by J. March. p xii ( 4 ); p222; front; folding plan; illus.; 16pl; 21.5cms. NJ 0009770.
Another copy LC 02021958. Printed for the author by J March, 1774; xii; (4); 222p; front (fold plan); illus 16 plates (partly folding); plans; 22 cm.
Another copy HA 001699735
Article in Philosophical Transactions, Vol. 48, Pt II, 1754; p 626-627.
Plantae Favershemiensis: BL 988.f.15. A catalogue of the more perfect plants growing spontaneously about Faversham...with an appendix, exhibiting a short view of the fossil bodies of the adjacent island of Sheppey. MS note by the author. With a portrait of the author. Printed for the author by J. March, London, 1777, 8o.
Another copy BL 968.e.7
Another copy, lacking author's portrait.. BL 234.e.36
Another copy BODL Q 213 Linc.
Another copy. BODL Gough Kent ( 2 ).
Another copy 19cms, p4, 1, p146, iiiip. NJ 0009772
Another copy HA 006335082, pp (8); 146pp; liiii+, port; errata at end.
Another copy HA 006335083,146pp.
Another copy HA 008113037
Fossilia Shepeiana. A short view of the Fossil Bodies native and extraneous of the island of Sheppey in the county of Kent, pp 129-146 of Plantae Favershemiensis
Observations on the Roman Earthen Ware taken From the Pan-Pudding. Archaeologia: or Miscellaneous Tracts relating to Antiquary published by the Society Of Aqntiquaries of London. Volume VI, pp 121-124, read 20th April 1780.
'A collection of minute shells discovered near Sandwich'... assisted in this by William Boys. 1784; 4o.
A catalogue of the valuable and genuine library of Edward Jacob ( sold by auctionby Leigh & Sotheby 13th February and 7 full days, 1789 ). p69; London, 1789. NJ 0009769.
Another copy HA 002537692