A JACOB ARMORY
Kenneth Jacob
I thought in this article I would set out what I know of coats-of-arms used by various individuals and members of families of the name of Jacob.
I should state here that, the custom of many companies on the internet offering you a 'family' coat of arms, is an illegal activity, quite apart from being a total nonsense. Arms may only be borne by heirs male of those to whom they were originally granted and, in default of these, may be inherited by those marrying female heiresses of such holders of arms. They may, then for example, be quartered with your own arms, if indeed you are armigerous. Alternatively you can apply to the College of Arms if in England, for a new grant of arms.
I see that since I published my coat of arms on the net, which a good many of my family are entitled to bear, it has been hijacked by such companies and offered for sale to anyone. Prior to that the only Jacob arms offered were those of the Gamlingay/Bromley-by-Bow family and of Philip Jacob. I suppose they were not aware of any descendants who would raise objection to this.
---
ARMS: Or, a canton gules, with an eagle displayed of the first.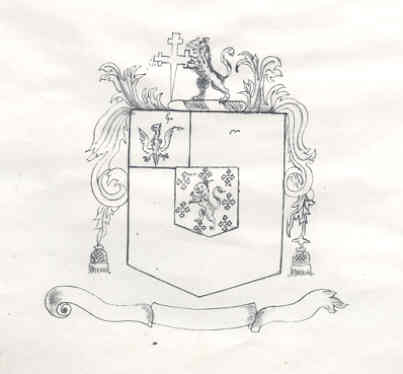 These arms are used by most of my family - the Jacobs of Elham, Canterbury and Faversham, now of course dispersed all over the world. They were granted by the College of Arms to be quartered with the Long arms in ca 1850, but had been in use for some time before then. None of my known ancestors ever went to a Herald's Visitation, but then it is not the sort of thing one would do now were they still held, and I suspect it was not then.
Earlier grants of the same arms had been made to John Jacob of Dover and to Sir Robert Jacob, Solicitor General in Ireland.
But an eagle displayed appears much earlier. A deed of John Jacob of Brakene (near Norwich, Norfolk) dated 1318-1319, which is in St George's Chapel Library in Windso,r is sealed with what can only be an eagle displayed. This is the earliest example of such a seal I have so far found (see illustration).
Another deed of the 14th century of Walter Jakyn of Kent also bears the impression of an eagle displayed. It is not impossible that these individuals were of the same family.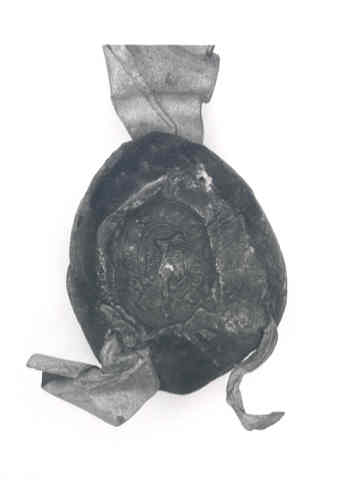 The next reference chronologically we have is of a seal attached to a deed of Martin Jacob MP of Taunton in Somerset. Unfortunately I have not looked at the deed yet, but the rather imprecise description states it is of a bird.
We then have the seal of Hugh Jakys of Bristol attached to a bond dated 1483 (22 Edw 4 1483, National Archives, E40 10270). The fact his name is rendered Jakys need not concern us. In the same period we have the will of Robert Jakys alias Jacob of Bristol. The seal bears the impression of an eagle displayed. Interestingly enough, this Robert Jacob, as is disclosed in his will, is of the Jacob family, alias Jakes, of Wellingborough and elsewhere in the counties of Leicestershire, Warwickshire and Northamptonshire, whose pedigree goes back to the 14th century. I yet have to publish it.
Thereafter there is a gap until when we see, in quite another part of the country, Shropshire, an eagle displayed used.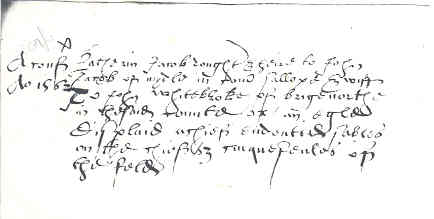 In the 17th century the use of the arms becomes more prevalent. There are many deeds still to inspect which without a doubt will throw more light on the use of these arms. The Dover Jacobs certainly used them on their deeds in the late 17th and 18th centuries.
By the 19th century my family used their arms liberally. My grandfather on his letterhead, a practise that developed after the invention of the envelope in 1840. Many members of my family used their arms on bookplates in the 19th century.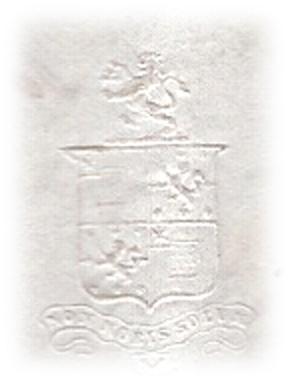 Where the arms originally originated I know not. I do have a couple of hypothesis, but would wish to explore these further before stating them here.
There are a number of other occurences of arms bearing an eagle displayed:
British Library Sloane MS 4973, fo 34, gives for Jacob (lozenge 1691) per fess indented, azure, an eagle displaid sable, imp legatt ermine a lion rampant gules.
Robson: British Herald: Jacobs (London) per fesse indented …. and …. an eagle displayed.
Visitation of Bedfordshire 1566: Per chevron or and argent an eagle displayed sable
For Sir John Joce (or Jorcy), argent, an eagle displayed sable (Baston).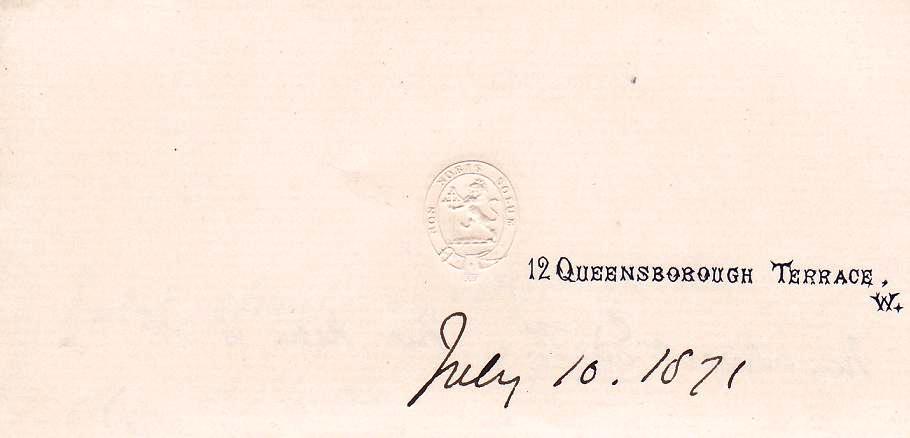 Use of the crest only by Sir George Legrand Jacob in 1871.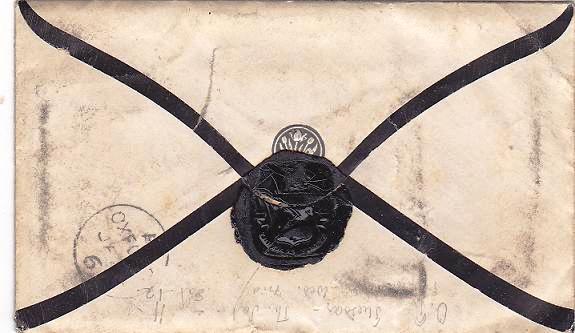 The full arms being used on a seal in 1864; the impression is rather poor. The letter is addressed
to Edgar Jacob, future Bishop of Newcastle and subsequently St Albans.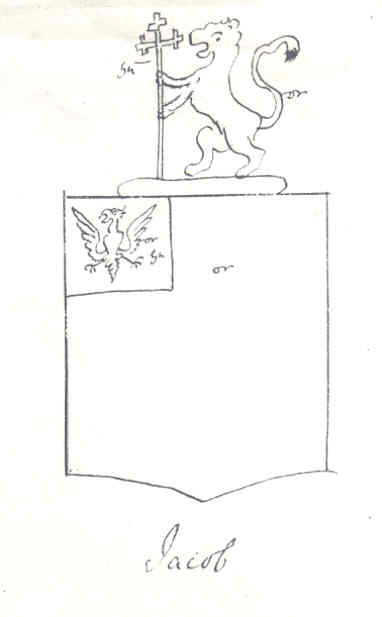 ---
ARMS: Argent, a chevron gules, three boards heads erased.
These are the arms of the Jacob family of Horseheath, Gamblingay and Bromley-by-Bow. They are first mentioned in the visitation of Cambridgeshire, and then in subsequent Visitations of Middlesex. They were frequently used by the family, as deeds in my possession demonstrate, as do deeds in the large holding of their family papers in the Essex Record Office. The arms were also shown on the fine monument erected to Abraham Jacob in Bromley-by-Bow church.
Other references to these arms include:
Argent, a chevron gules between 3 tigers heads erased, ppr Jacob bart of Ubbeston, Withersfield (Davy, Edmund), Dictionary of Suffolk Arms. Davy gives the crest in his Suffolk Armory as a lion passant ppr.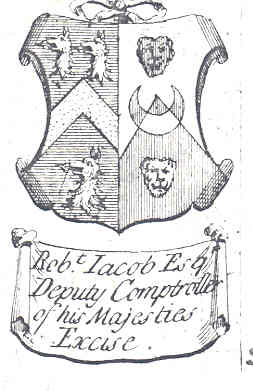 ---

ARMS: Or, a canton sable, a tiger's head erased of the field, longues gu. Crest: a tiger passant sable, resting his foot on an escutcheon or.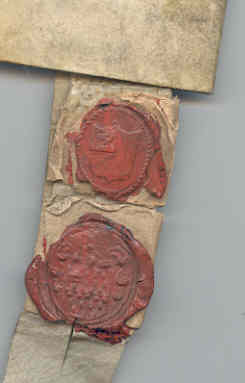 This are the arms granted to Thomas Jacob of Wootton Bassett on 24th June 1633.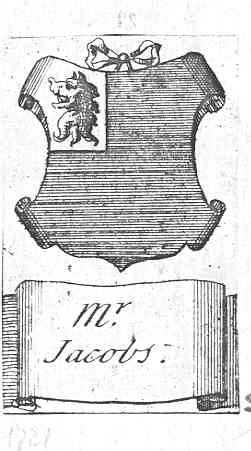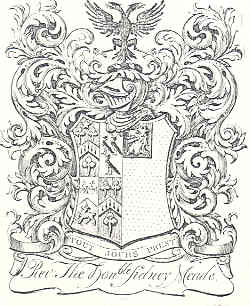 ---
ARMS: There are a number of arms ascribed to this family.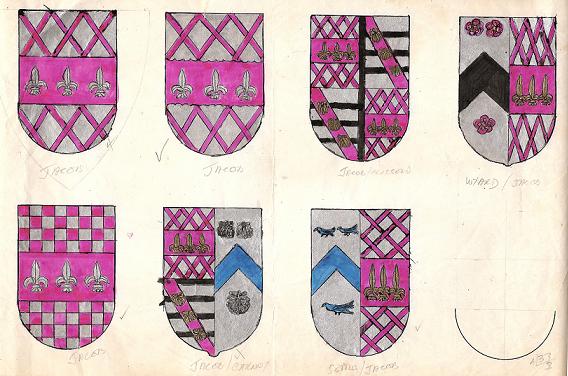 The arms of the Jacob family alias Bradlaugh of Laxfield and other parts of Suffolk and Norfolk.
Much research into this family was done by one of its members, the late Trevor Walker Jacob. Before he died he very kindly gave me his research material and I owe it to him to get this posted. Unfortunately the family tree he drew by hand, apart from being large, is rather convoluted and difficult to decypher. However, I have made good progress with it and hope to have it up in due course. I have earlier material I researched, but will not add this for some time yet.
A number of arms are ascribed to this family. We have:

A chevron between three roses (seeded ppr), Jacob of Laxfield (Green Memoir, page 62, note)
A Dictionary of Suffolk Arms, Jean Corder (DSA) Argent, a fretty gu on a fesse gu, 3 fleur de lis arg, for Bradelaugh alias Jacob of Laxfield (Gulty 109), (Fairfax (Lev)), Sharpe EA Misc 1926, page 90.)
Chequey on a fesse 3 fleur de lis, Jacob of Laxfield (Green Memoir, p63)
Fretty on a fesse three fleur de lis Jacob of Laxfield (Partridge (Darby))
Fretty on a fesse invected, 3 fleur de lis, Jacob of Laxfield (Blois MS and ed F Davy)
Davy in his Suffolk Armory gives the crest as a dexter arm embossed, holding in the hand a scimitar.
---