JUSTIN EDWARDS ABBOTT
Born 25th December 1853 - Died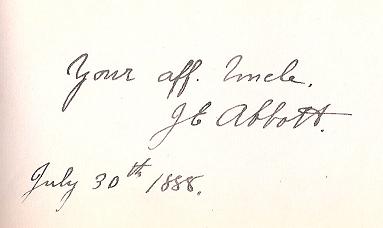 A son of Amos Abbott, he was born at Portsmouth on 25th December 1853, and died at Summit, New Jersey on 19th June 1932. He married Camilla L Clarke in Naples, Italy, on 2nd January 1902. She was the daughter of Byron W Clarke and Adaline Amanda Thompson. She was born about 1862 in Dunkirk, New York, and died on 26th June 1921 in India.
He graduated from Dartmouth College in 1876, and the Union Theol Sem in 1879. He received his DD from Dartmouth in 1900, and was ordained a pastor of the Congl Church, Nashua, in 1880; he was acting pastor of Norwood, New Jersey in 1880-1881; a missionary of the American Board of Christian Foreign Missions from 1881 onwards; he was editor there in 1885; a member of the Revision Committee of the Bombay Bible Society; Vernacular Secretary of the Bombay Tract and Book Society from 1884 onwards; he lived unmarried at Bowker Hall, Bycrella, India and later in New York City.
Sources:
Major Lemuel Abijay Abbott, Descendants of George Abbott of Rowley, Mass., Volume 2, 1906.
Information supplied by Frank Dean.
Frank Deane's 'Deane Project' on Rootsweb.
Autograph from a book belonging to Kathleen Anstice Jacob, daughter of Colonel George Adolphus Jacob.